This Issue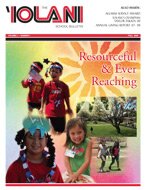 Resourceful & Ever Reaching: There is no such thing as a sleepy summer at 'Iolani School. At least there was none for the approximately 2,862 students from Hawaii and around the world who enrolled in various classes this recent summer.
Read the full story »
Fall 2008 - Feature
45th Annual Father Bray Football Classic


Now the reception is held under a large tent on the grounds of Aloha Stadium where the games are played.  Guests enjoy a full meal and entertainment from popular music groups such as Beach 5, which performed this past August.

The Classic featured a double header: Pac-Five versus Wailalua (50-7) and 'Iolani versus Kaiser (39-0).

While the venue has changed since the beginning, the purpose of the Classic has remained the same. It's to honor the late coach, teacher, counselor and friend-in-need Father Kenneth Augustine Bray. As founder of 'Iolani School's athletic program, he established a tradition for sportsmanship and fair play, modesty, and team unity. His philosophy of One Team spirit focuses on the importance of every member of the team working selflessly to achieve a common goal.

During the Classic reception and in half-time of the 'Iolani game, four alumni were recognized for perpetuating Bray's legacy. They were Albert Nishikawa '49, Carl Sakata '46, Harry Masaki '46, and Andrew Ono '51.



2008 Father Bray Honorees
Albert Nishikawa '49
After graduating from 'Iolani School in 1949, Albert Nishikawa earned a bachelor's degree from the University of Hawaii and later served in the army for three years. He worked for the state Department of Health and Personnel Services divisions for a total of 29 years and retired in 1987. An active member of his church, he is married to Song Cha and stays busy with various interests including working in his yard. 


Carl Sakata '46
Carl Sakata graduated from 'Iolani in 1946 and earned a bachelor's degree from Grinnell College in Iowa and a master's degree in public administration from George Washington University in Washington, D.C.. He retired in 1990 after 19 years as the budget analyst for the state Department of Education. He has also been the budget director and analyst for the state Department of Transportation, the United States Department of Health, Education and Welfare in Washington, D.C., and other organizations. He worked in the state legislature and among his awards is a June 1999 Resolution from the Hawaii State Ethics Commission. Carl has been married to his wife Jean for 55 years, and they have four children, Michael '72, Jamie Young, Carrie Matsuwaka, and Nancy Chiu. Granddaughters, Jill Matsukawa '04 and Rachel Matsukawa '07, graduated from 'Iolani.


Harry Masaki '46
After graduating from 'Iolani in 1946, Harry Masaki attended the University of Hawaii. He worked for Phillip Morris, Inc. for 34 years and retired in 1989 as head of sales for Hawaii. He and  wife Elizabeth have been married for 29 years and enjoy traveling. They have been to Japan 13 times and take frequent golfing trips to the mainland. Harry belongs to Moanalua Golf Club where he plays four times a week. He and Elizabeth also enjoy walking at Ala Moana Shopping Center three times a week. Together, they have ten children, 27 grandchildren and 34 great grandchildren.


Andrew Ono '51
Andrew Ono '51 earned his undergraduate degree from Grinnell College and then went on to earn a fellowship at the University of Washington, where he stayed and later earned his law degree. He returned to Hawaii and worked for the Attorney General and Prosecutor's Office, eventually opening his own law practice. In 1990, he retired from practicing law and worked for the Japanese firm Bellevue Inc. for ten years. Now, officially retired, he works on the web site for the 442nd Regimental Combat Team's web site, www.442rct.org, and also teaches tennis. He has a daughter Momi Ono and a son Ian Ono.




The annual Father Bray Football Classic has come a long way since its inception in 1962. Back then, the pre-game reception for alumni and friends was held at the 100th Infantry Battalion Club House on Kamoku Street with the games at the school's field.