This Issue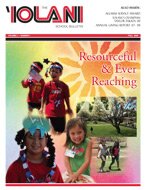 Resourceful & Ever Reaching: There is no such thing as a sleepy summer at 'Iolani School. At least there was none for the approximately 2,862 students from Hawaii and around the world who enrolled in various classes this recent summer.
Read the full story »
Fall 2008 - Feature
Walkathon lifts spirits, raises money for student fighting cancer
Jana Wang
'11.
Organized by the Friends of Jana Wang, the walkathon was held on July 12 at the 'Iolani football field and track with more than 500 students, alumni, teachers, staff, and friends registered in support of Jana's battle against cancer.
Cyrenne Okimura and Allison Ishii '02, in front, are surrounded by students who were instrumental in putting on the Believe Walkathon to benefit Jana Wang '11.
See more photos »
The event raised $27,000 through registration fees, t-shirt sales, and outright donations. Also set up were booths featuring face painting, Waiola Shave Ice, Great Harvest Bread Company, Hole-E-Cow Hot Dogs, Coffee Bean & Tea Leaf, fresh fruits and a bake sale.  All proceeds went towards Jana's medical bills and expenses. 
In between walking, people participated in wholesome games like a water balloon toss, three-legged race, and jump rope contest.
"We knew we wanted to do a walkathon because we wanted to create a day that everyone could get involved with," says 'Iolani girls tennis coach
Allison Ishii
'02, who co-chaired the event with 'Iolani dance teacher
Cyrenne Okimura
.
In the spring of 2007, tennis player and then 'Iolani eighth grader Jana was diagnosed with cancer. She had to leave school to undergo several surgeries at hospitals in Hawaii and the mainland. Her more-than-year-long battle has rallied the 'Iolani community in support. Students and teachers wear Jana Wang Believe shirts that were created as a fundraiser on her behalf. They have also written cards and e-mails, sent care packages, and shown their concern in countless ways.
While Jana couldn't attend the walkathon, her courage was felt by everyone. Her brother
Perry
called her almost a dozen times from the field.
On the field, tents were decorated with green and white balloons. A giant sign read BELIEVE. One thousand origami cranes decorated a stage. Music played from the stadium. From infants to senior citizens, walkers of all ages, shapes, and sizes made laps around the track.
"Just to know that so many people were there for her was really uplifting," says Ishii. She and Okimura spent months planning the walkathon and arrived at 'Iolani before dawn to set up that day.
When the Believe Walkathon was publicized in the
'Iolani School Bulletin
spring 2008 issue,
Leslie Nakamura
'50, an 'Iolani alumnus living in Maryland, was so moved that he made an unsolicited donation.  Later, he made another donation and now stays in contact with Ishii to find out how Jana is doing and to express his concern.
Likewise,
Randall Ng
'60, who has never met Jana or her family, described her story as "inspiring" and made a donation towards her expenses.
"We all share one common bond," Ng wrote in a letter. "We are all members of the 'Iolani community."
New 'Iolani student
Jordan Kobayashi
was so touched by Jana's plight that he held a garage sale and donated all proceeds to her.
Boni Gravelle
's kindergarten class wrote cards and letters to Jana throughout the school year and then showed up at the walkathon with their parents, who made contributions and brought treats for the bake sale.    
There are dozens more stories of how Jana's journey has inspired others and made the 'Iolani community even stronger.    
Andie Enomoto
'10 met Jana when they both played on the intermediate girls tennis team and Ishii was their coach. Enomoto designed the JW logo that is on the sleeve of the Believe t-shirt. She describes Jana as "so sweet" and someone who gives out positive energy and always makes people laugh.        
When Enomoto found out Jana had cancer, she was stunned, like the rest of the tennis team.    
"It was really hard," she says. "You don't know why bad things happen to good people."    
Working on the walkathon with her tennis teammates, members of the dance team, and students from all different aspects of campus has been an extraordinary experience for Enomoto and others.    
"This whole experience has had a big impact on me," Enomoto adds. "I really respect Jana because she is so strong. She's gone through more pain than some people have in a lifetime. But she's so strong and positive."
If every step taken at the Believe Walkathon symbolized strength, then the 'Iolani community is indomitable, likewise the spirit of