This Issue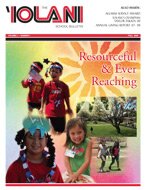 Resourceful & Ever Reaching: There is no such thing as a sleepy summer at 'Iolani School. At least there was none for the approximately 2,862 students from Hawaii and around the world who enrolled in various classes this recent summer.
Read the full story »
Fall 2008 - Other News
| School
Becoming globally aware through Teachers Without Borders
By Paul Heimerdinger
If once is good, then twice must be better.     
That axiom certainly holds true of my trip this past summer with Teachers Without Borders to the Republic of South Africa.  After a similar trip in 2006, I had a much better understanding of the types of questions and needs the teachers in South Africa have.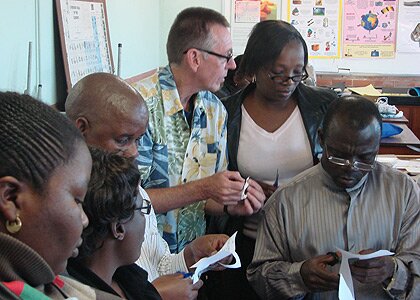 'Iolani science teacher Paul Heimderdinger, center, works with educators in South Africa in Teachers without Borders.
The rural teachers may have as many as 60 students in a class and always face working with limited supplies.  This year I focused on coordinating lab activities with specific South Africa National Curriculum Standards that could be accomplished with a minimum of materials and equipment.  Recycled bottles, cans, Styrofoam containers, holiday mini-lights, refrigerator magnets, red cabbage, string, washers, paper clips and cereal and cardboard boxes became our lab materials. 
I introduced many of the educators to the stopwatch function on their cell phones, which gave them a convenient and accurate instrument for measuring time.     
Exclamations such as, "I did it!", "Look! Mr. H., it works!" and "It lights!" made for chicken-skin moments that make the cold weather and rustic conditions worth the effort, preparation and sacrifices of traveling half way around the world.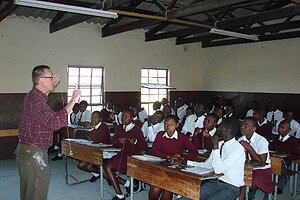 Rural teachers in South Africa may have as many as 60 students in one class.
Our 2008 team was under the direction of Teachers Without Borders – South Africa founder
Yunus Peer
from Punahou School. Those on the trip included two math teachers,
James Metz
of Kapiolani Community College and
Carl Wheeler
who retired from Mid-Pacific Institute, leadership facilitator
Lyla Berg
of the Hawaii State Legislature, technology coordinator
Ari Patz
of Styrophobia.com, and two science teachers,
Buffy Cushman-Patz
of La Pietra, and myself representing 'Iolani School.     
Our little troupe traveled in two very tightly packed vehicles over 3000 kilometers through the provinces of the Northern Free State, Eastern Cape, and KwaZulu-Natal in three weeks.  We had a total of 340 teachers and administrators attend our workshops of which about 120 teachers attended the science workshops.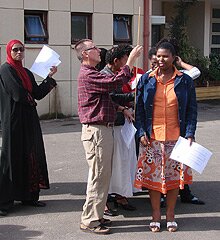 Lab activities were conducted with the simplest of materials.
At the closing ceremonies of the workshops, the teachers expressed the
ir genuine and sincere appreciation to Teachers Without Borders for coming to work with them through song and dance.  Their written evaluations conveyed their appreciation for learning how to recycle and use simple everyday items to teach science as well as their hope that Teachers Without Borders will return with an even longer workshop next year.       
For me, the upside of all of this was meeting many wonderful new people from the other side of the world, seeing African wildlife up close and exploring the countryside of South Africa from Johannesburg to Cape Town.      This experience of teaching other teachers has in turn made me a better teacher and a more aware global citizen, and for that I must thank my new friends and colleagues of South Africa. 
Based in Seattle, Washington, Teachers Without Borders connects a global community of teachers who help each other play a more vital role in their communities. A former Peace Corps volunteer, Paul Heimerdinger has taught at 'Iolani for 21 years.