This Issue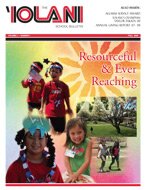 Resourceful & Ever Reaching: There is no such thing as a sleepy summer at 'Iolani School. At least there was none for the approximately 2,862 students from Hawaii and around the world who enrolled in various classes this recent summer.
Read the full story »
Fall 2008 - Other News
| Alumni
Class of '83 Reconnects for 25th Year Reunion


Phil Chun '83 organized the August 8 golf tournament and pupu party at the Ewa Beach Golf Club. It was a beautiful day, but, of course, the company was better than the golf. The closest-to-the-pin winners were Alan Hirayama '83, Alice Nagano '83, Robert Futa '83 (who wasn't there to collect his winnings so his classmates bought drinks instead) and Phil Chun '83, who made a hole-in-one on the 16th hole! (Classmates are still waiting for him to host the celebration!)

Brad Konishi '83 and his wife Lois put together a festive reunion dinner at the Hee Hing Restaurant on August 9. The highlight was the "Identify the Classmate" game where partygoers were challenged to list the first and last name (with proper spelling) of classmates from their senior yearbook photos (the photos were also used as nametags!). David Hata '83 correctly identified 16 of the 20 earning $200! All prizes were generously donated by Douglas Ing '83. Brad also did a terrific job as emcee, videographer, bartender and game show host.  Mahalo, Doug, Brad and Lois!

Next stop, Vegas!  Looking forward to seeing everyone at the 30th! For more information contact Dean Yonamine '83.  To see reunion pictures, join the `Iolani Class of 1983 Google Group at http://groups.google.com/group/iolani-class-of-1983.
The Class of 1983, 'Iolani's first full co-ed graduating class, celebrated its 25th  year reunion this past summer with 48 graduates participating in events. The fun began on July 31 at the `Iolani Alumni Reception held in the Upper School courtyard and continued at A Touch of `Iolani's "The Red Event" on August 2.