This Issue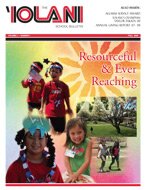 Resourceful & Ever Reaching: There is no such thing as a sleepy summer at 'Iolani School. At least there was none for the approximately 2,862 students from Hawaii and around the world who enrolled in various classes this recent summer.
Read the full story »
Fall 2008 - Other News
| Alumni
Class of '58 celebrates 50th Year Reunion
Val Iwashita '67 and his wife Cynthia.  Guests enjoyed a sushi bar and other fresh summer entrees.

A highlight of the afternoon was the presentation of the class gift to Dr. Iwashita. Classmates contributed a combined $102,871 to 'Iolani School in commemoration of their 50th reunion.

The alumni also enjoyed tours of campus led by Director of Alumni Relations Mike Moses '93 and talking with Development Director Chris Shimabukuro '85, Director of Institutional Advancement Jane Heimerdinger, and Director of Communications Cathy Lee Chong. Norma Murayama of the Institutional Advancement team was also present. 

Capping four days of 50th year reunion activities, the Class of '58 returned to campus for a luncheon on June 9 with Headmaster Dr.