This Issue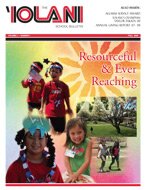 Resourceful & Ever Reaching: There is no such thing as a sleepy summer at 'Iolani School. At least there was none for the approximately 2,862 students from Hawaii and around the world who enrolled in various classes this recent summer.
Read the full story »
Fall 2008 - Other News
| Alumni
Alumni Week caps off Reunion Season
Val Iwashita '67 and Cynthia Iwashita.

Attendees enjoyed a campus tour as well as a scrumptious buffet and open bar.  Entertainment was provided by award-winning musician Paul Shimomoto '86, whose jazz and hapa haole numbers kept the mood mellow and light. 

Also in attendance was Dr. Raymond deHay '38, the most senior alumnus present, who was celebrating his 70th year reunion.  Congratulations Dr. deHay and all of 'Iolani's reunion classes.

Alumni representing eight decades gathered on campus on July 31 for the kick-off reception of the third annual 'Iolani Alumni Weekend.  Members of reunion classes were invited to take part in the fun, which was hosted by Headmaster Dr.