This Issue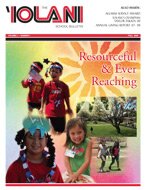 Resourceful & Ever Reaching: There is no such thing as a sleepy summer at 'Iolani School. At least there was none for the approximately 2,862 students from Hawaii and around the world who enrolled in various classes this recent summer.
Read the full story »
Fall 2008 - Other News
| Alumni
18th Annual Golf Tournament
Golfers Enjoy Alumni Association Tournament
For the second consecutive year, the 'Iolani Alumni Association had its largest field ever - 246 golfers - for its annual golf tournament.  The 18th edition of the event, which was organized by the Class of 1977 and Chair
Dion Yasui
'77, was held at the Hawaii Prince Golf Club on June 26.


Left to right, Mike Moses '93, Marc Iyomasa '93, Marc Okumura '91 and Ryan Kusumoto '93


Rod York '91, Nelson Moku '91, Rand Ide '90, Jim Kerchenski, Garett Muranaka '89, James Wong '88


Lowell Kurashige '77, Greg Quinn '77 and David Tsuzaki '77
Players were treated to a host of exciting prizes and great food and drink.  Each player received an Antigua golf shirt and a shoe bag, and lucky winners received one of the more than 150 door prizes presented before the tournament even started.  But the big winners of the day were the first place team
Nelson Moku
'91,
Rod York
'91, and
Jim Kerchenski
, who each walked away with a $500 Ala Moana Gift Certificate. 
Congratulations to all winners and to the Class of 1977 Planning Committee for putting on such a successful event.  Members of the committee were: Chair Dion Yasui, Lowell Kurashige, Luke Teruya, Brian Isobe, Scott Hayashi, Nelson Char, Thomas Taam, and Ronn Inouye.
Comments from Readers
Cathy

Great event! Thank you.