This Issue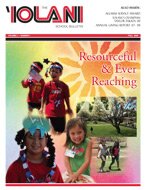 Resourceful & Ever Reaching: There is no such thing as a sleepy summer at 'Iolani School. At least there was none for the approximately 2,862 students from Hawaii and around the world who enrolled in various classes this recent summer.
Read the full story »
Fall 2008 - Other News
| Alumni
Alumni Association Announces New Officers
The 'Iolani Alumni Association Board of Directors has announced the new officers for the 2008-09 year.

Sherri Iha '84 was elected as president of the board, succeeding Derek Ching '83. Adrienne (Shimonishi) Elkind '90 was re-elected as vice-president, and Darryl Jung '83 was elected treasurer for a second term.

At the general meeting on July 14, the 'Iolani Alumni Association members elected its 2008-09 Board of Directors.

Re-elected were incumbent decade directors Tom Campbell '61, Carter Siu '92, and Clifton Yasutomi '00. Guy Kamitaki '73 and Matt Teho '85 were elected for their first term. At-large directors earning re-election were incumbents Darryl Jung '83 and Adrienne Elkind '90. Joining them as at-large directors were new members Grant Ishikawa '86, Lisa Ignacio '89, and Erin (Adaniya) Palmer '91.

Continuing their tenure on the on the board are Steven Ai '72 (Board of Governors Representative), Michael Flores '67, Bruce Fong '79, Ken Kawahara '87, Davin Kazama '94, Neil Kuioka '00, Calvin Miyamoto '58, Nelson Moku '91, Sara (Haruki) Murakami '85, Lance Taniguchi '94, and Rand Totoki '79. 

July marked the end of several board members' tenures.  The alumni association thanks the following for their service:  Derek Ching '83, Galen Haneda '81, Yvette (Yuen) Maskrey '84, Ray Ono '72, and Kirk Uejio '98. 

Comments from Readers
Mark Ambler

Thanks to everyone for your time and service!