This Issue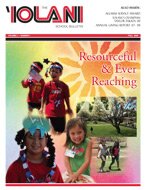 Resourceful & Ever Reaching: There is no such thing as a sleepy summer at 'Iolani School. At least there was none for the approximately 2,862 students from Hawaii and around the world who enrolled in various classes this recent summer.
Read the full story »
Fall 2008 - Department
| Slice of Sports
Slice of Sports
A Shoe In! Silver Anniversary for 2008 'Iolani Prep Classic


Glenn Young '59, tournament founder and organizer, holds the Nike Classic shoe that will be released in December.
The 25th Anniversary of the 'Iolani Prep Classic will be celebrated this year when eight boys teams and four girls teams from beyond Hawaii meet with local schools in December for exciting games, ESPN coverage, and a commemorative 'Iolani Classic Nike basketball shoe.
The Classic has drawn national attention as high school teams from across the nation (and China) have competed against teams from Hawaii.
Last year, a girls tournament was added for the first time. This year, the girls play from December 11 to 13.
The boys competition runs from December 17 to 22 with ESPN televising the final rounds. The addition of Whitey Young High School from Chicago and Tsinghua High School from Beijing, China make this year's tournament especially interesting. Whitey Young's roster includes
Marcus Jordan
, son of retired NBA star
Michael Jordan
. The Tsinghua team is ranked number one in China. 


The show features the 'Iolani Classic logo and Nike swoosh
"The tournament gives teams from Hawaii the opportunity to play against teams from across the country," says tournament founder
Glenn Young
'59. "People have told me that this influence has made the caliber of high school basketball in Hawaii even higher. For young people here, being exposed to some of the best players in the country is an invaluable experience. We all learn from each other."
Nike, the tournament's major sponsor, will release a shoe to celebrate the tournament's silver anniversary. Retailing at $85, the shoe will be available at the Classic.
For more information, check www.iolaniclassic.org.
2008 teams include:
Girls Tournament
Sacred Heart Cathedral Prep (San Francisco, CA)  (33-0)
No1. in USA Today Super 25, No. 2 ESPN
Long Beach Poly (Long Beach, CA) (31-2)
No. 3 in USA Today Super 25, No. 3 in ESPN
Oregon City (Oregon City, OR) (22-4)
Westlake (Atlanta, GA)  (23-5)
'Iolani
Punahou
Farrington
Konawaena
Boys Tournament
Oakhill Academy (Mouth of Wilson, VA) (34-4)
No. 8 USA Today, No. 3 ESPN
Of note: Keith Gallon (6 '8' center - No. 5 ranked senior center)
LeFlore (Mobile, AL) (30-3)
No. 12 USA Today, No. 8 ESPN
Of note: Demarcus Cousins (6'11" forward - No. 1 ranked senior forward)
Montrose Christian (Rockville, MD)  (24-4)
No. 74 Rivals.com
Of note: Mouphtaou Yarou (6'9" forward - No. 5 ranked senior forward
Fairfax (Los Angeles, CA) (27-6)
No. 19 ESPN
Of note: Renardo Sidney (6'10' forward - No. 3 ranked senior forward)
Putnam City (Oklahoma City, OK)  (25-2)
No. 52 Rivals.com
Of note: Xavier Henry (6'6" guard - No. 1 ranked senior shooting guard)
Whitney Young (Chicago, IL) (18-3)
Of note: Marcus Jordan (6'3" senior guard - younger son of Michael Jordan)
DeMatha (Hyattsville, MD)  (21-10)
Tsinghua High School (Bejing, China)
'Iolani
Kamehameha
Maryknoll
Mid-Pacific Institute
Leilehua
Moanalua
McKinley
Kaimuki
Ann Kang Tournament showcases girls volleyball, pays tribute to late coach


Jana Tokuhama '09 volleys the ball during a game in the Ann Kang Invitational Volleyball Tournament. (Photo Al Linsky)

The 26th annual Ann Kang Invitational Volleyball Tournament took place in the 'Iolani gyms from August 13 to 16 with 20 teams from Hawaii and the mainland competing in several rounds of exciting games.    
Mira Costa High School of California won the gold bracket in a close match against Wilson High School of Long Beach, California, 26-24, 25-27, 15-11.  'Iolani tied for seventh place in the championship bracket, the only Hawaii school to qualify for the championship round. Hawaii Baptist Academy won the silver division. Radford won the bronze and Kahuku took the flight division championship.    
The tournament was founded by longtime 'Iolani teacher and coach
Ann Kang
. It was renamed in her honor after her death in 2003.    
Other teams participating in the tournament included Newport Harbor, Corona Del Mar, Los Alamitos, Redondo, Harvard Westlake, Punahou, Sacred Hearts, San Marcos, Word of Life, Moanalua, Pearl City, Mililani, Molokai and 'Iolani B.    
Mahalo goes to the dozens of volunteers and supporters who make this tournament possible each fall.
Comments from Readers
Mark Ambler

How do I get a pair of those shoes?