This Issue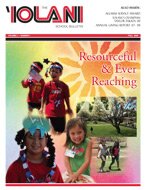 Resourceful & Ever Reaching: There is no such thing as a sleepy summer at 'Iolani School. At least there was none for the approximately 2,862 students from Hawaii and around the world who enrolled in various classes this recent summer.
Read the full story »
Fall 2008 - Department
| School in Focus
The School in Focus
36 seniors named National Merit Scholarship Semi-finalists
At 'Iolani 36 members of the Class of '09 qualified as National Merit Scholarship semi-finalists for 2009.
These academically talented high school seniors have an opportunity to continue in the competition for some 8,200 National Merit Scholarships worth more than $35 million, that will be offered next spring.
To be considered for a Merit Scholarship award, semi-finalists must fulfill several requirements to advance to the finalist level of the competition. About 90 percent of the semi-finalists are expected to attain finalist standing, and approximately half of the finalists will win a National Merit Scholarship.
More than 1.5 million juniors in over 21,000 high schools entered the 2009 National Merit Program by taking the 2007 Preliminary SAT/National Merit Scholarship Qualifying Test (PSAT/NMSQT), which served as an initial screen of program entrants. The nationwide pool of semi-finalists, which represents less than one percent of U.S. high school seniors, includes the highest scoring entrants in each state is proportional to the state's percentage of the national total of graduating seniors.
'Iolani's 36 semi-finalists for 2009 include the following:
Kristelle K. Aisaka
Keiko A. Akamine
Shantel H. Asada
Nikki A. Castel
Bhasha Chakrabarti
Kai Y. Chen
Kevin J. Duong
Joseph T. Durso
Alexa J. Hettwer
Lianne T. Ho
Julia Bree M. Horie
Grant Iwamoto
Jueun Jang
Amy M. Ko
Jeffery T. Kwock
Quingyun Liao
Amelia K. Linsky
David M. Martorana

Jackelyn A. McMillan
Celia Y. Ou
Zoe M. Petticord
Jeffrey T. Sakamoto
Jessica S. Saylors
Zachary P Simao
Robert J. Tamai
Kevin T. Tanaka
Eve Y. Tang
Samantha Tasaki
Elysse S. Tom
Uyanga Tsedev
Lauren E. Walker
Danielle M. Wilson
Emily K. Yamamura
Sean J. Yancey
Craig M. Yugawa
Julia A. Zhang
Students Enjoy Campus Improvements


The Castle Building now boasts an open entranceway and lanai.
The most visible change to campus over the past summer was the renovation of the Castle Building. Deteriorating exterior retaining walls were removed and the entrance way was expanded to be more inviting and open. A trellis design provides shade, accented by a design reminiscent of musical scales. The Castle Building houses music, band, chorus, and orchestra rooms as well as the performing arts department office. Also, seventh and eighth graders now have new lockers situated in a functional area of Castle's lanai.


The beloved I'o Hawk watched over campus for 23 years.
Across from the Castle Building, a pedestal and courtyard to showcase a new statue of Sun Yat Sen is being developed.
Other improvements include the installation of more efficient lights in the lower gym and bleachers in the upper gym. To be more energy efficient, 'Iolani is now using compact fluorescent lamps (cfls) and investigating the possible use of photovoltaic panels over the parking structure.


Mark Rulona '09 paints a mural beneath the Ranzman Library.
The campus bid farewell to the beloved I'o Hawk sculpture that graced the courtyard of the I Building. The steel feathers had rusted beyond repair and became loose. The hawk was removed to prevent a passerby from possibly being hurt if a feather should happen to fall. Art teacher
Dave Roberts
and the Class of '85 created the hawk. Roberts and his team are working on another hawk sculpture to be displayed on campus.
In the meantime senior
Mark Rulona
'09 painted a hawk design on the wall beneath the Ranzman Library and facing senior benches. The mural depicts the hawk's head, a sunrise, and a beautiful sky.
'Iolani School named Hoa Paka Park Partner
'Iolani School was among the non-profit organizations and businesses honored by Mayor
Mufi Hannemann
on July 3 as Hoa Paka park partners. Mayor Hannemann presented a certificate to Headmaster Dr.
Val Iwashita
and other park partners during his weekly press conference.   
Hoa Paka is the City & County of Honolulu program that gives others the opportunity to maintain and support public parks on Oahu for the benefit of the community.
'Iolani School has been a park partner of neighboring Ala Wai Park since the days of Mayor Frank Fasi's administration. 'Iolani staff and volunteers help maintain the bike path, stream bank and soft ball field that are adjacent to 'Iolani School and Ala Wai Elementary School.
'Iolani also helps maintain the baseball field and other grounds of Ala Wai Park stretching between the canal and Kapiolani Boulevard.
A sign will be posted in Ala Wai Park acknowledging 'Iolani as an Alii Park Partner, the highest level of partnership.


Dr. Val Iwashita was among the community representatives honored as Hoa Paka park partners by Mayor Mufi Hannemann '72.
Hawaii Suzuki Institute held this past summer
The Hawaii Suzuki Institute was held July 25 to 29 at 'Iolani School.  Sponsored by the Suzuki Association of Hawaii, the event was designed to benefit violin, viola and cello teachers, students, and their parents. 
Free concerts were held in Seto Hall. The Hawaii Suzuki Institute is held every other year, bringing in exceptional educators and strings musicians from across the country.
Institute activities included master classes with individual instruction, group lessons to review and polish the Suzuki repertoire, technique classes, music theory, Introduction to Harmony, music reading, creative movement, string orchestra, chamber ensembles, viola for violinists, art, and student and guest artist concerts.
Kaela Teho '18 is a Children's Miracle Network Champion Child
Kaela Teho
'18 proves that champions don't always look like Hercules or a super hero. She was recently selected by the Children's Miracle Network as the 2008 "Champion Child."  Bravely battling leukemia, Kaela was honored because of her concern for her community and willingness to help others. 
When Kaela turned seven, she chose to have an "Eco-party" and asked guests to bring a donation for the World Wildlife Fund instead of birthday presents. One of the party activities was a beach clean up. 
Kaela has also done fundraising for Hawaii Children's Cancer Foundation, the only local organization whose exclusive focus is Hawaii's children with cancer and their families. 


Kaela Teho '18, center, represented Kapiolani Medical Center in the Children's Miracle Network, a national program that provides health care for children. She and her family visited Walt Disney World in April.
In 2006, Kaela trick-or-treated for donations for HCCF and raised almost $500.  Last year, the fundraiser was open to the public, with more than $9,600 raised.  Kaela's Class of 2018 classmates were instrumental in that effort, earning over $3,000 through a garage sale and trick-or-treating in their own neighborhoods.
As the Champion Child, Kaela received a trip to Walt Disney World and Washington D.C. with her parents,
Matthew
'85 and
Kendis
'85, and sister
Lily
'21.  The Tehos met "Champion" children from across the United States as well as from Canada, United Kingdom, and Ireland.  Each Champion is an ambassador for his or her local Children's Miracle Network. 
Kaela represented Kapiolani Medical Center, where she spent two and a half years undergoing chemotherapy treatments and continues to receive follow-up care.
While in Washington, D.C., the families were given a special tour of the White House and met President George W. Bush.  But the best part of the trip, the family agrees, was meeting the other children and their families, who all had such positive outlooks despite the challenges they have faced. 
 "Everyone who meets a challenge is a champion!" Kaela says.