This Issue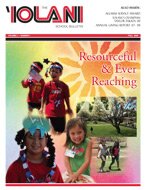 Resourceful & Ever Reaching: There is no such thing as a sleepy summer at 'Iolani School. At least there was none for the approximately 2,862 students from Hawaii and around the world who enrolled in various classes this recent summer.
Read the full story »
Fall 2008 - Department
| Pictures from the Past
Historic Photos Donated to 'Iolani Archives
In March 2008,
Frederick E. Jessett
of Sammamish, Washington, e-mailed the 'Iolani School website with an unusual question, would the school be interested in historical photos taken by his late father,
Thomas E. Jessett
, who taught at 'Iolani from 1921 to 1923?
"My father, Thomas E. Jessett (1902-1982) was a teacher and also for a time vice-principal of Iolani in the early 1920s," read the e-mail from Frederick. "I have some photos he took or obtained at that time. In particular there is a picture of the 4th and 5th grades class taught by Mrs. E. K. Oakes  in May 1922 and one of the 6th grade taken in May of 1922 (with names given) as well as a picture of the  whole school at rear of main building taken in Sept. 1921. Also one of Mrs. Woolaway, Matron, 1923, and of the Armstrong Building March 1923 and a few other pictures of Iolani students."
If 'Iolani was not interested in these photos, Frederick wrote in the e-mail, they would be added to the Thomas E. Jessett Special Collection at the University of Washington Library in Seattle.
The e-mail was forwarded to 'Iolani School archivist
Rose-Marie Panko,
who weeks later was delighted to receive the photos, especially since the earliest yearbook in the 'Iolani archives is from 1924.
Accompanying one of the photos was a list of most of the students in the picture compiled by Thomas himself.
Throughout 'Iolani's history, educators from around the world have contributed to the school's excellence, as well as gone on to do great things with their own lives beyond 'Iolani.
Back in 1921, Thomas E. Jessett was only 19-years-old when he came to 'Iolani after being offered a position of vice-principal by the Rt. Rev.
Henry Restarick
who was the Episcopal Bishop of Honolulu. Then, geography books described Hawaii as the "Sandwich Islands," as recorded in Thomas's autobiography.
The Reverend Canon Thomas Edwin Jessett was born in Marborough, England. He taught school in Vernon, British Columbia, and Honolulu before going to Washington state. His ministry began in 1924 as a lay reader. He later received his bachelor's and master's degrees from Washington State University. He was later canon of honor of St. Marks Cathedral and diocese in Seattle in 1953.