This Issue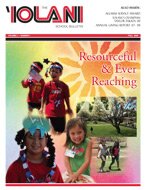 Resourceful & Ever Reaching: There is no such thing as a sleepy summer at 'Iolani School. At least there was none for the approximately 2,862 students from Hawaii and around the world who enrolled in various classes this recent summer.
Read the full story »
Fall 2008 - Department
| Giving to 'Iolani
Young Alumni Sign Letters for Annual Giving

   
The letters were mailed to their classmates in late July and many young alumni have already sent in their donations!  The money raised from Annual Giving will help cover the school's operating expenses and can also be directed for scholarship.   Many learned that tuition covers only 67 percent of the actual costs to educate students.  Participation in 'Iolani's fundraising effort is greatly encouraged for young alumni, with even small donations being very meaningful.
   
The event included good food and a opportunity for young alumni to catch up with each other while home for summer vacation.  It was a great night of fun and fellowship.  A special thank you goes to Andrew Inouye '04, Matt Oishi '05, Ryan Kamo '06, Tracy-Lynn Hirai '07 and Gerilyn Manago '07 for helping to recruit their classmates.  We thank all of the young alumni signers for their time and support of 'Iolani School.
 
Alumni from the classes 2004, 2005, 2006, 2007 and 2008 gathered for dinner on July 10 at Hee Hing Restaurant to sign fundraising letters for the on-going 2008-2009 Annual Giving campaign.