This Issue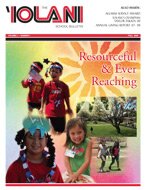 Resourceful & Ever Reaching: There is no such thing as a sleepy summer at 'Iolani School. At least there was none for the approximately 2,862 students from Hawaii and around the world who enrolled in various classes this recent summer.
Read the full story »
Fall 2008 - Department
| Faculty & Staff File
Faculty & Staff File
Recognizing Years of Service
Headmaster Dr.
Val Iwashita
'67 and Assistant Headmaster/Dean of Faculty
Lily Driskill
recognized faculty and staff for their years of service to 'Iolani School during a meeting on August 29 in St. Alban's Chapel.    
Gifts were presented to those completing 10, 20, 30 and 40 years of service.    
Dr. Iwashita also presented the Ernell C. Young Endowment for Faculty and Staff Development award to math teacher
Amy Yonashiro
. The $2,200 award goes towards professional education, development and enrichment.


Recognized for ten years of service to 'Iolani were, left to right, Joseph Guillou, Ivan Suzuki '89, Raquel Leong, Paola Williams, Paul Lucero, Garry Chun '80, Catherine Pettit, Sara Finnemore, Amy Tomisato with Dr. Val Iwashita.


Celebrating 20 years of service were Mark Skillicorn, Holly Chung, Linda Reser, Cate Waidyatilleka with Dr. Val Iwashita. (Not pictured was Rev. Daniel Stewart)


Honored for 30 years of service were Clifford Lee '70, Carl Schroers, Linda Tatsuno with Dr. Val Iwashita.


Kindergarten teacher George-Anne Derby received a standing ovation for 40 years of service to 'Iolani.
Kudos & Congratulations
Congratultions to theatre teacher
Rob Duval
who received a Po'okela Award from the Hawaii State Theatre Council for Featured Male in a Play (The Constant Wife at Hawaii Pacific University) and to dance teacher
Katherine Jones
'93 who also received a Po'okela for Choreography (Rocky Horror Picture Show at Manoa Valley Theatre).


Teachers Alan Suemori '75, Rob Duval, Russell Motter, and Jeffrey Hackler '71 with 'Iolani students on opening night of Inventing van Gogh which was presented by the Hawaii Repertory Theatre.
Duval also directed The
Wizard of Oz
at Diamond Head Theatre this past summer and starred as Vincent van Gogh in
Inventing Vincent van Gogh
at the Kawananakoa Backstage Theatre.


A mahalo reception was held in the early summer for longtime 'Iolani security guard Fine Uyema who plans to relocate to the mainland to be closer to family. Pictured with her were, sitting, Rene Leong, Audrey Hee, Linda Ching and Leoni Harbottle (standing).
History teacher and department head
Russell Motter
also performed as a modern day art dealer and artist
Paul Gaugin
in Inventing van Gogh.    
Warm wishes go to history teacher
Kimberly Ishihara
'93 and
Steven Keliiholokai
who were married on May 10.