This Issue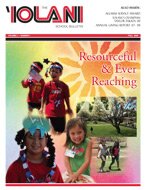 Resourceful & Ever Reaching: There is no such thing as a sleepy summer at 'Iolani School. At least there was none for the approximately 2,862 students from Hawaii and around the world who enrolled in various classes this recent summer.
Read the full story »
Fall 2008 - Department
| Editor's Note
Editor's Note
We all need anchors in our lives.
Not the type that Popeye has tattooed on his forearms, though. We need metaphorical anchors, ones that provide stability when everything around us seems to be changing, constantly moving.    
My grandmother's house on Laola Place in Pacific Heights is an anchor. I remember going there as a child and picking mountain apples in the yard. Grandma is now 97 and grandpa died 18 years ago, but, for me, their home and their street are symbols of growing up in Hawaii.     
'Iolani School is a 145-year-old anchor.     
It's a place  alumni can return to and reflect upon even after they move on in the world.  Even in the tumult of career moves, marriages, births, deaths, divorces, children leaving for college, and random other switches in the gears of life, 'Iolani is a touchstone.    
The last issue of this magazine featured a cover story on class rings, which are like tiny anchors for thousands of graduates.  With your name or initials engraved, these bands can bring back memories of youthful days especially for those touched by sentimental thoughts.    

Henry Yamada
'49 read the story, remembered his 'Iolani boyhood, and decided to donate his 1949 ring, still in excellent condition, to his alma mater for safekeeping.    
"I have not worn my class ring since 1953 and kept it stashed away all these years," Yamada wrote in a note. "I found the article in the 'Iolani Bulletin most informative. Please accept the ring with my compliments."    
After reading the same article,
Lorraine Lau
, who has two granddaughters at 'Iolani (
Torie Takeuchi
'20 and
Taylor Takeuchi
'18), went to look for her uncle's old class ring and discovered the 1925 14 karat ring  with the initials S.Q.L. for
Sau Quon Lee
'25 and I.H.S for 'Iolani High School. That year only 25 boys were in the graduating class. Like Yamada, Lorraine also plans to give the ring to the school.    
The antique gift is invaluable, especially because prior to that the school only had evidence of the earliest class ring being from the Class of 1937.    
"I want to give it to someone who will take care of it," said Lorraine, whose husband
Richard Lau
'58 and son
Brandt Takeuchi
'87 both graduated from 'Iolani.    
Their class rings will be well stored by 'Iolani archivist
Rose Marie Panko
,  whose office overlooks Sullivan Courtyard. She is the keeper of vital records, school yearbooks, documents, and other valuables that tell 'Iolani's story and reflect the school's prominence in history – items that reveal why 'Iolani is an anchor to so many people from different generations and walks of life.    
As times change, anchors occasionally evolve as well.     
The first issue of the
'Iolani School Bulletin
was published in 1960. Since then, the growing 'Iolani community has relied upon its pages for news, photographs and Classnotes that help provide a bridge between each other and back to 'Iolani.    
Now the printed version is being enhanced with an electronic one. While parts of the Bulletin have been posted on the school's web page www.iolani.org in the past, the entire magazine is now available online at
iolanibulletin.org
.    
The online version will, we hope, allow more alumni and friends to enjoy its content. With the rising cost of postage and paper, and in efforts to be green, going online with the
Bulletin
just makes sense.    
If you would like to receive e-mails alerting you to when a new online edition of the quarterly magazine is posted, e-mail and give us your e-mail address.    
Class rings and school magazines and grandparents' homes, like anchors, connect us to our roots and remind us of where we came from. I'm sure you have your own anchors. E-mail me at if you'd care to share what connects you to 'Iolani.    
We don't have to be Popeye to wear anchors beneath our sleeves.
- Cathy Lee Chong  
Comments from Readers
Roy Kanda

Thanks to great friend, I have found this site. It was great to read about what is happening. It was nice to see the pic of the class of '53. Could not recognize some of you, especially you Darow and China Lee