This Issue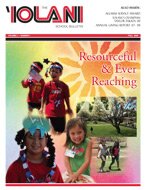 Resourceful & Ever Reaching: There is no such thing as a sleepy summer at 'Iolani School. At least there was none for the approximately 2,862 students from Hawaii and around the world who enrolled in various classes this recent summer.
Read the full story »
Fall 2008 - Department
| Alumnus Profile
Alumnus Profile
MARCIE UEHARA HERRING
Class
: 1989
Position
: Author, Speaker and Wellness Coach
Education
: University of Hawaii, BA marketing, MA counseling
Family
: Husband Kevin Herring
Marcie Uehara Herring
'89 received one of the best gifts from her grandfather. It wasn't a new bike or fancy dress. It wasn't a shiny diamond or anything you can buy in a store.
An immigrant from the Philippines,
Macario Flores
passed on to his granddaughter (and the rest of the Flores family) the value of helping others. As a volunteer for youth organizations in his hometown of Waipahu, "Grandpa Mac" set an example of giving back and making a positive impact in the lives of others.
Marcie carries on her grandfather's legacy through her work as a facilitator with Coalition for a Drug-Free Hawaii, leading health and wellness programs for girls. She has also written a book,
Swim With Your Current
, that provides guidance to teen girls. And Marcie, with her mother
Linda Uehara
, volunteers with several organizations, including 'Ohana Ola  O Kahumana, a transitional homeless shelter in Waianae.
Her mother received the President's Volunteer Service Award in 2007 in recognition of over 40 years of working with youth, families, schools and communities to promote and support safe and healthy lifestyles in Hawai'i.
"Part of why my mom gives back is because it honors the people in her life who made a difference," Marcie says. "It's something inside. We just want to help."
After graduating from the University of Hawai'i, Marcie worked for different non-profit organizations before joining the staff at Coalition for a Drug-Free Hawaii in 1995. She became a trainer for gender specific programs and adapted the Centers for Disease Control and Prevention program to create Girls Street Smart  - which focuses on the prevention of substance abuse, sexually transmitted diseases, and HIV/AIDS among teens – for Asian Pacific Islanders.
Participating in the Maui Writer's Conference also gave her the confidence to listen to her inner voice and put her counseling and wellness expertise into a book. Her book's message empowers girls to  
"dream big" and "make a difference so you feel like you matter."
Swim With Your Current
creatively reveals "swimming lessons" or life skills designed to help girls navigate the challenges along life's path. For instance, swimming lesson number 12 is, "Throw me a floaty. Communicate what you need." The book is available at Louis Pohl Gallery in downtown Honolulu.
On a recent summer break from work, Marcie and Kevin, her husband of 12 years, traveled to a neighbor island.  They didn't, however, visit a luxury resort. Instead, the couple volunteered their time to an environmental and spiritual cause. They spent four days restoring Kaho'olawe, the island formerly used as a military bombing target.
"It was very special being there," Marcie adds.
Likewise, Marcie is a special young woman, carrying on her family's commitment to the community, and 'Iolani's legacy for caring.