This Issue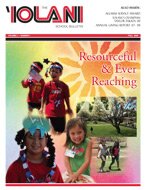 Resourceful & Ever Reaching: There is no such thing as a sleepy summer at 'Iolani School. At least there was none for the approximately 2,862 students from Hawaii and around the world who enrolled in various classes this recent summer.
Read the full story »
Fall 2008 - Department
| Alumni Association News
News from the 'Iolani Alumni Association
As students returned to class this past fall, the 'Iolani Alumni Association tried to catch its breath after a busy summer of great events.  It seems that when the school year begins, we have a chance to take a break (albeit a short one) and then start planning for the upcoming year.
We kicked off the season with our 4th annual summer concert, this year featuring the legendary Makaha Sons.  They wowed hundreds alumni and families with great music.  Special thanks go to our planning committee
Galen Haneda
'81,
Rand Totoki
'79,
Lance Taniguchi
'94, and
Clifton Yasutomi
'00 for their hard work in making this a great summer tradition.  Also deserving thanks is
Wes Chong
'68.
A few weeks later, on June 26, the Class of 1977, with their fearless leader
Dion Yasui
'77, organized the 2008 'Iolani Alumni Association Golf Tournament at Hawaii Prince Golf Course.  A record 246 golfers participated in what has become a very sought after event. (We sold out more than a month before the event.)  Congratualtions to Dion and his crew!
Speaking of a job well done, the Class of 1989 must be commended for their terrific work on the 13
th
Annual A Touch of 'Iolani.  Dubbed The Red Event, this year's Touch was special, featuring smooth jazz from
Bruce Hamada
'75 and
Paul Shimomoto
'86; wonderful food from a variety of vendors; a special drink from Kai Vodka; a silent auction with an abundance of items to bid on; and, best of all, a deserving Alumni Service Award winner in
Alan Tamanaha
'73.  Thank you Class of 1989 and especially Chairs
Rayna Say
'89 and
Dean Young
'89.  Like the golf tournament, the Touch sold out more than one month before the event date.  Thanks go to the entire 'Iolani 'ohana for making these events so successful.
Finally, at the 2008 Father Bray Classic, the association was a co-sponsor of the pre-game tailgate.  Members of the board, led by
Mike Flores
'67 and
Rand Totoki
'79, passed out reusable shopping bags with the association's new logo.  Congratulations go to this year's honorees:
Harry Masaki
'46,
Carl Sakata
'46,
Albert Nishikawa
'49, and
Andrew Ono
'51.  They truly exemplify the One Team spirit.  
This summer, we also welcomed several new members to the 'Iolani Alumni Association Board of Directors.  New members are
Guy Kamitaki
'73,
Matt Teho
'85,
Grant Ishikawa
'86,
Lisa Ignacio
'89, and
Erin (Adaniya) Palmer
'91.  Re-elected were incumbent directors
Tom Campbell
'61,
Darryl Jung
'83,
Adrienne Elkind
'90,
Carter Siu
'92, and
Clifton Yasutomi
'00. We are very excited to have them and look forward to another productive year.  
Congratulations go to
Sherri Iha
'84, who was elected President for the upcoming year.  Joining her are
Adrienne Elkind
'90 as vice-president and
Darryl Jung
'83 as treasurer.  
Finally, this issue of the
Bulletin
includes two upcoming events.  On October 26, we'll be hosting a Halloween Bowling Bash at Aiea Bowl.  Bring the family down for a fun day of cosmic bowling, a tournament and Halloween costume contest.  On November 3, the Association invites you to Amuse Wine Bar for an evening of networking and wine.  Please visit www.iolanialumni.org for event information and registration.
Hope to see you at one of these or the many other upcoming events this year.
Go Raiders!



Sherri Iha '84
President


Mike Moses '93
Director of Alumni Relations