This Issue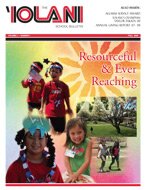 Resourceful & Ever Reaching: There is no such thing as a sleepy summer at 'Iolani School. At least there was none for the approximately 2,862 students from Hawaii and around the world who enrolled in various classes this recent summer.
Read the full story »
Fall 2008 - Department
| Special to Annual Report
A Commitment to Giving
It's never too soon to say thanks.
One recent 'Iolani graduate has made a life-long commitment to his school before his career has begun.  All indications, however, promise a distinguished career for Ryan Sato '03.


During spring break of college, Ryan Sato '03 traveled to the Dominican Republic. He says the experience opened his eyes to the ravages of poverty in the world. It also showed him how much good a doctor can do by helping people.
Now a medical student, Sato is the youngest of 'Iolani  graduates to choose an increasingly popular way to give thanks to his school.  Sato and his mother, Carol Y. Asai-Sato, worked with the Office of Institutional Advancement and his own estate planner to establish the Ryan M. Sato Trust for 'Iolani School, making his alma mater a beneficiary of his estate.  Although barely 23, Sato is making sure the school he attended from 1990 to 2003 will be assured of continued strength. As a third-generation 'Iolani student whose half-sister, Jennifer Sato, is entering the fourth grade, Ryan appreciates the importance of a long-term tie to his school.
At 'Iolani Sato was a fine all-around student who won awards for academics and citizenship, and a versatile athlete who participated in paddling, golf, and water polo.  He told us that he loved the school. 
"'Iolani molds you," Sato said, "and teaches you lessons for life."
He expressed especially strong feelings for the teachers, whom he called "irreplaceable."  With a smile he remembered his third-grade mini-society project.  "I made a business called the Cool Company and sold Chex Mix.  My money was called 'cool cash.'"  He remembered the lesson from Lower School and studied economics in the Upper School.  It became one of his favorite subjects.  Another of Sato's favorite classes was AP English.  His teacher, Frank Briguglio, said, "It sounds corny, but if I had a son, I'd want him to be like Ryan. He is a real gentleman.  Ryan is smart, he has a great sense of humor, and he has his feet on the ground."
Neither economics nor English, however, was Sato's chief calling.  After graduating, he went on to Tufts University in Massachusetts.  Tufts proved to be a perfect choice for Ryan.  Thanks in part to the Advanced Placement courses he took at 'Iolani, he was able to earn his bachelor's degree in only three years.  From Tufts he returned to the John A. Burns School of Medicine at the University of Hawaii, where he is a third-year student.
'Iolani inspired Sato's love of learning, but it was travel, and especially medical missionary work, that confirmed him in his life's work.  In his third year at Tufts he volunteered for a medical relief trip.  Twenty students and five doctors traveled to the Dominican Republic, where they traveled to five rural cities, setting up clinics offering free checkups, analysis, treatment and pharmaceutical services.
"This was probably my most influential experience in becoming a doctor," Sato explained.  "It really opened my eyes to what poverty is out there in the world and how fortunate we are to live in Hawaii and America.  It also showed me how much good a doctor can do helping people and has motivated me to go into the medical profession to do the same for others."
Sato's medical education at the John A. Burns School of Medicine has included a trip to Japan to shadow doctors and a mission to the Philippines, where he joined a team of missionaries who offered medical care to homeless people living in a city dump in Manila.  As garbage trucks arrived, scavengers would swarm over the dump.  Sato and the other doctors would meet them and offer help.  Sato credits his missionary experiences with instilling a commitment to unselfish service.  He said that upon seeing the needy people in the countries he visited, "There but for the grace of God go I."
Anyone who meets Sato will see that he is a young man with many blessings.  One of his greatest blessings is his attitude that none of those blessings is meant for his good alone.
Long-range gifts can help 'Iolani produce more students like Ryan Sato for generations to come.  To discuss the options for long-term giving and shape a plan that is right for you and your family, contact the Institutional Office at 808 943-2369 or email .