This Issue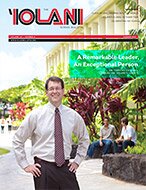 A Remarkable Leader, An Exceptional Person: Dr. Timothy Cottrell Carries on 'Iolani's Legacy
Read the full story »
Summer 2012 - Feature
| 'Iolani Fair
'Iolani Fair 2012 Global Getaway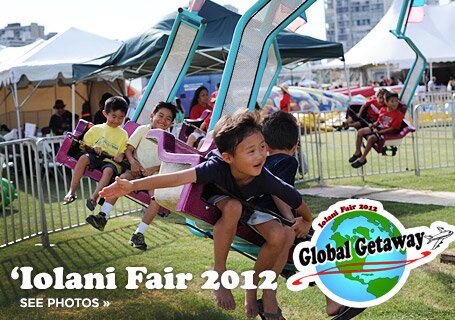 T
he 21st annual 'Iolani Fair, held this past April 20 and 21, took us around the world with the theme of Global Getaway and loads of internationally-induced fun. There were games for all ages, rides, crafts, face painting, a general store, a silent auction, entertainment and more.
"Once again I am swept away by the One Team effort. I love the look of awe and delight on the Lower School faces and am impressed by the cooperation of students, parents and alumni. It really shows 'Iolani at its best."
– Dean of Lower School Gerald Teramae
Food booths featured everything from Greek food and veggie wraps to Cuban sandwiches, pasta Bolongnese, and sushi and ochazuke. Folks also enjoyed Hawaiian plates, malasadas, shave ice, waffle hot dogs, red velvet cupcakes and fresh crepes. The tasty li hing malasadas were probably the biggest new hit.
Nearly 35,000 people attended with 3,700 volunteers giving back to help make 'Iolani's biggest community event another success. Proceeds from the Fair go towards educational programs, student activities and other aspects of school life. The Fair also serves the community by providing a family-fun event for all to enjoy.
"Working and coming to the 'Iolani Fair is like biting into a Pā'ina Dog: big, delicious, and spicy. You have not seen all of 'Iolani until you have seen the Fair. It's one of the happiest, tastiest things we do. And its impact on the school is huge!"
– Art teacher  Dave 'Jungle Bob' Roberts
"What an amazing experience! Every year, volunteers generously give of their time and talent to put on this fun-filled two-day community event and we would like to send a sincere "thank you" to each and every one, many of whom have gone above and beyond, whom have dreamed with us, inspired us, and ultimately achieved with us. It is through the efforts of these selfless volunteers that the Fair continues to be a successful annual event."
– Fair Coordinator Carissa Leonida (along with Fair staffers Kevin Tomisato and Bonny Moniz)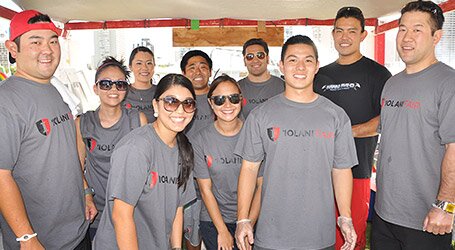 Members of the Class of '04 volunteered in full force: Andrew Inouye, Cori-Ann Hirai, Devan Kawakami Wong, Trisha Watanabe, Ian Nagata, Emily Moore, Tyler Street, Justin You, Jayson Quon and Nate Akamu.
See more photos »
"For the five of us the meaning of Fair has developed into one which truly epitomizes 'Ohana. Although the unforgettable journey of Global Getaway has come to a close, we will always cherish in our hearts the live long friendships and lasting memories."
– Student Fair chairs Jaime Lee '13, Jarret Lin '13, Trey Takara '13, Erin Masatsugu '13 and Loxley Keala '13
"We are deeply appreciative and inspired by the dedication of all the volunteers, school personnel, and community participants who contributed to the unprecedented success of the Fair this year," said Fair co-Chairs
James Lee
'74 and
Cheryl Wong
. "Mahalo to all who shared in this exciting and memorable "One Team" experience!"
Lee and Wong worked closely with Fair coordinator
Carissa Leonida
to ensure that all operations of the Fair ran smoothly. They were inspired by the helping hands of students, parents, alumni, teachers and friends who manned booths, baked cookies, chopped vegetables, and performed countless duties that all contribute to an event that the whole community anticipates each year.
Next year's fair takes place on April 19 and 20. Mark your calendars!
Comments from Readers
Mike Barnette

I look forward to helping at the fair every year. Great chance to see my classmates from 1970 and show them that the " token haole " still rocks!