This Issue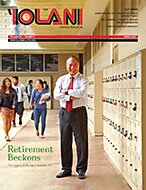 Retirement Beckons - The Legacy of Dr. Val T. Iwashita '67
Read the full story »
Spring 2012 - Feature
| Keables Week
Poet Taylor Mali & A Slamming Good Time
by Frank Briguglio
Chair of the 'Iolani School Keables Committee
'I
olani School's 25th Keables Chair Holder
Taylor Mali
, one of the best known contemporary poets in the country, ignited a spoken word fire that blazed across the school's campus for two weeks as he performed his poetry, conducted workshops, and engendered laughter, inspiration, enrichment, delight, wisdom, reflection, and appreciation for the power of words.
Spoken word poet Mali is an itinerant creative writing teacher and curator of the Page Meets Stage series at the Bowery Poets Club in New York City. He bedazzled, inspired, enriched, and taught students in Upper and Lower School classes through his poetry, energy, outlandish sense of humor, acting skills, wit, insight, and love of the teaching profession. He was a campus celebrity as creative energy resonated in the classrooms he entered.

Keables Committee Chair and English teacher Frank Briguglio, left, was instrumental in coordinating Slam Poet Taylor Mali's teaching residency at 'Iolani.
"Did you see that guy with the ponytail?" one student remarked. "He's teaching my class today!"
He left an impression both in word and spirit, and in some cases on the flesh with his "Tough Teacher" temporary tattoos. With each day, each class, each presentation, each poem and story he brought to life, Mali demonstrated what teachers make. It was clear to see why his performance of his famous poem "What Teachers Make" has nearly 3.5 million views on YouTube.
Professor
Peter Saccio
of Dartmouth, Keables Chair Holder in 2009, said during his visit three years ago that Shakespeare is "always old and always new." That view applies to this year's Keables Chair too, especially with Mali. Tenth and ninth graders saw that Shakespeare is new, fresh, and fun in the hands and voices of Mali when he performed lines from
A Midsummer Night's Dream
and lines from
Romeo and Juliet
in Seto Hall.

2012 Keables Chair Holder Taylor Mali spoke to in chapel services, reaching students from kindergarten to twelfth grade.
Mali taught teacher
Karen Swain
's Creative Writing students how to meet vulnerability head-on through their writing and performances. As they started with
I remember
poems and backed their way into writing metaphors, students felt slightly intimidated as they had to share and perform without "umms" and "likes" and they even had to sing! Treating the young writers as professionals, Mali had them taking risks and crafting beautiful images in two short days. He made the students laugh as he pushed them. Yes, students' eyes filled with tears, too, and Mali boomed, "Never apologize for tears. Tears are a blessing, a way to celebrate our imperfections and revel in them as the place where good poetry is born."

Taylor Mali taught classes in Lower and Upper School, from drama to English, and dance to writing.
Mali taught  teacher
Jessie Marshall
's advanced creative writing class three times during his first week at 'Iolani. The first assignment, which students had completed prior to his arrival, was to write "small slices" about who they were in a single page. On the first day Mali asked the students to read their work, and he gave them useful writing tips: "Quit braggin' – Don't use a poem to show how awesome you are," and, "Don't bury the lead. Tell us what the story is and why it matters. What are you withholding?" He urged the students to take risks and reveal the embarrassing truth. Imagine saying to the reader, "If you want to make fun of me, I'm going to make it easy for you." Mali told the class that readers respond to several things in a poem, such as risk, beauty, honesty, and concrete language. Taylor explained, "The more of a risk, the more riveted your audience will be." On the second day, Mali opened with a
Li-Young Lee
poem, "One Heart," and wondered if the poem had been written when Lee was the Keables Chair Holder in 2002. Mali said, "The poet should feel free to lie in order to provide a more accurate vision of reality."
Tears are a blessing, a way to celebrate our imperfections and revel in them as the place where good poetry is born."
Mali ended the class by sharing some poems, several of which were shared on YouTube. These included, "Memorize This Sentence for Casual Use in Conversation" (Mali), "Kite" (Rives), "Girls with Guitars" (Rives), "Unsolicited Advice to Adolescent Girls with Crooked Teeth and Pink Hair" (Jeanann Verlee) and "Forty Love Letters" (Verlee). Mali asked the class to choose where the risk was in the poem and what lines they would remember.
During the second of two Keables Weeks, Mali took the stage in Seto Hall for a free public community performance. He brought the house down or rather up. He promoted his new book of prose
What Teachers Make
while raising money for cancer research. After the reading, Mali signed copies of his two books of poetry,
The Call to What We Know
and
The Last Time As We Are
.

At a reception honoring Harold Keables and recognizing Taylor Mali, far left, were retired Assistant Headmaster Charlie Proctor, Headmaster Dr. Val Iwashita '67 and English teacher Karin Swanson who nominated Mali as chair holder.
During a mahalo reception at the Headmaster's residence, the school paid tribute to the talented Chair holder and to the many supporters who contributed to the Keables Chair over the last 30 years.
Mali would call them "The Miracle Workers."
One plus One plus One plus... equals One Thousand
Mali has been working on his New Teacher Project for twelve years. His goal is to help create 1,000 new teachers through his messages about the virtue and gravitas of the profession. Once he reaches 1,000, he's going to cut off his ponytail. So far, Mali has secured around 925 confirmations by teachers that his message inspired them to become educators. Mali is so confident that he'll reach the 1,000 teacher mark that he's already booked his haircut: On April 7, 2012 he will donate 10-inches of his hair to Pantene Great Lengths for cancer survivors.

The 'Iolani community appreciates the continuity of the residency and reception and the uniqueness of each Chair Holder's talents and gifts.
The Keables Chair in Retrospect
Established in 1982, the Keables Chair has flourished over the decades with an increase in funding from donors and an internationally respected reputation. The program has brought Keables Chair Holders, visiting educators and professionals, from near and far and from a variety of backgrounds, to serve as resident teachers at 'Iolani.
To be selected as a Keables Chair Holder, one must be nominated by a faculty or staff member of 'Iolani School and then selected by the Keables committee. Keables Chair Holders are scheduled a minium of two years in advance of their visit which usually lasts two weeks in late January and early February.
Keables Chair Holders
1986   Robert Palazzi, English teacher, Department Chair
1987   Allan Glatthorn, English curriculum specialist
1990   Donald Murray, Pulitzer award winning writer and teacher
1991   Thomas Newkirk, University of New Hampshire English Prof.
1992   Donald Johnson, Poet, teacher
1993   Jane Hansen, Elementary school teacher, author
1994   Jack Higgs, Sports writer, teacher
1995   Georgia Heard, Poet, elementary school teacher
1996   Joan Countryman, Mathematics teacher, writer
1997   Jane Schaffer, AP English teacher, curriculum specialist
1998   Paul Watkins, author, teacher
1999   Jeff Gere and Ruth Stotter, story tellers
2000   Oregon Shakespeare Festival performers
2001   Ellen Greenblatt and Eric Rothschild, English and history teachers
2002   Li-Young Lee, Poet
2003   Neil Campbell, Biologist, textbook author
2004   David Mas Masumoto, Organic peach farmer and author
2005   Lee Cataluna, journalist, playwright, story teller
2006   Robert O'Meally, Jazz Studies Scholar
2007   Billy Collins, 2001   United States Poet Laureate
2008   Dr. Scott Kim, Puzzle master
2009   Dr. Peter Saccio, Shakespearean scholar
2010   Dr. Cheryl Hayashi '85, spider silk biologist
2011   David Horsey, editorial cartoonist
2012   Taylor Mali, slam poet
2013 Keables Chair
Buffy Hamilton, Founder of "The Unquiet Library"
Buffy Hamilton
is the founding librarian of "The Unquiet Library" at Creekview High School in Canton, Georgia. Hamilton, who earned her Ed.S. in Instructional Technology and School Library Media at the University of Georgia in 2005, taught high school English courses and served as an educational technology specialist for the Cherokee County School District. She is passionate about creating library experiences for her students that will encourage them to be lifelong learners and advocating for the power of the library in her community. She collaborates extensively with the teachers and students in her school to create learning experiences to foster students' information fluency and digital citizenship, the cultural capital students need to fully participate in today's society.