This Issue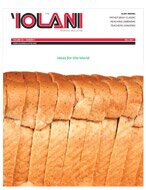 Ideas for the World
Read the full story »
Fall 2011 - Other News
| New Faculty
Welcoming Faculty & Staff to 'Iolani School
Sophie Bretel |
French (One Year Fulbright Program Exchange)
Sophie Bretel
is an English language teacher in France. She is teaching at 'Iolani for one year through the Fulbright Classroom Teacher Exchange Program, while 'Iolani French teacher Erin Cleveland teachers at Bretel's school, College Beg Er Wil, in Quiberon, France. Bretel was born in Rennes and first visited the United States in 1993 when she stayed with a host family in Philadelphia. She studied English language and civilization at the University of Rennes and earned her master's degree in African American history from Eckerd College in Florida. Bretel has been an English teacher in France for 10 years and has organized chool trips to Norway and Ireland. College Beg Er Vil is a middle school with about 125 students and 18 teachers.
Stephanie L.C. Ching |
Human Resources Manager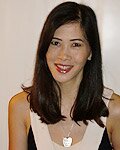 Stephanie L.C. Ching
earned her bachelor of science degree from the University of Hawai'i at Mānoa and her master's in Human Resource Management from Hawai'i Pacific University. She was previously employed as director of Human Resources by Tamura Enterprises, Inc. for nearly nine years. She enjoys volunteering with the local Chinese community and is a director for the Miss Chinatown Organization, a non-profit that provides cultural and scholarship opportunities for young women in Hawai'i. She has traveled to China where she taught conversational English for two summers. She spend her freetime with her 7-month-old daughter
Kirin
and husband
Marc Hino
.
Holly Church |
Biology
Holly Church
received her bachelor of science degree from the University of California Santa Barbara while working as a research SCUBA diver and playing water polo for the Gauchos. She spent four years working as a research technician in a variety of oceanography labs. During that time, she studied the wetlands along the eastern shore of Virginia, the plankton communities along California, and the krill populations under the sea ice in Antarctica. She earned a master of education degree from the University of Hawai'i. This will be her sixth year teaching in Hawai'i and her first year teaching at 'Iolani. In the past five years she has taught biology, earth science, and human physiology, as well as, coached the girls water polo team at Kalāheo High School. She enjoys surfing, hiking, photography, playing water polo, and most of all spending time with her husband
Matt
and her daughter
Annabelle
.
Brett Dahlberg |
English (One Year)
Brett Dahlberg
received his bachelor of arts degree in politics from Willamette University in Salem, Oregon, where he competed on the school's debate team. Dahlberg traveled to China for the Beijing Foreign Studies University International Debate Tournament, which he won with his partner on an American-Chinese friendship team. He comes to 'Iolani from Seoul, South Korea, where he teaches debate at an after school academy and coached the winning team in a city-wide debate tournament. He enjoys hiking, bicycling, and pretending that he is a good cook.
Michael Furuya |
Art (One Semester)
Michael Furuya
attended the California College of the Arts and the Academy of Art University in San Francisco where he graduated with a bachelor of fine arts in illustration. He has been working in Hawai'i as a freelance illustrator and fine art painter since 1989. Furuya has a passion for Native Hawaiian wildlife which is the subject of many of  his paintings. He has been educating the children of Hawai'i for over 15 years through his children's book illustrations as well as through 'Ohi'a Productions which he co-founded. 'Ohi'a is a non-profit theatre company that is dedicated to producing educational touring shows for Hawai'i's schools and bringing families together through the arts. He enjoys hiking, exploring nature, working with his hands, and spending time with his wife
Erin
and his two sons
Aidan
and
Brady
.
Michele Hastings |
Economics (One Year)
Michelle Hastings
earned her bachelor of arts degree in political science from Texas A&M University in 1993. She has taught French, English and Economics in places as diverse as Texas, North Carolina, South Korea, Nigeria and Hawai'i. Hastings moved from Boerne, Texas where she taught Advanced Placement macro and microeconomics for five years. Michelle speaks fluent French. She also enjoys swimming (and qualified for the Olympic Trials in 1984 in the 100m breaststroke), SCUBA, walking her dogs on the beach, and stand-up paddling. She has a daughter
Kendall
, 12.
Chiharu Iwamoto |
Japanese (One Semester)
Chiharu Iwamoto
earned her bachelors degree in International Relations and English Education with national teaching licenses at Kitakyushu University in Japan. She trained both Japanese and international staff members at Japan Airlines as a licensed educational instructor for five years. She also taught English at a high school in Japan, and came to Hawai'i to pursue her master's degree in Teaching English as a Second Language at Hawai'i Pacific University. From 2008 to 2011, she was the manager of the Japan Business Program at the Japan-America Institute of Management Science (JAIMS) where she taught Business Japanese to MBA students. She has also taught Japanese for 'Iolani's Lower School after school program, volunteered to assist Japanese Advanced Placement classes at 'Iolani, and taught Japanese at Kapiolani Community College. She enjoys playing Ukulele, practicing hula, and going to the beach with her husband
Kevin Lee
'91.
Kristi Kai |
Second Grade
Kristi Kai
earned a bachelors degree in education, a professional education diploma, and a masters of education degree in curriculum studies with an emphasis in reading from the University of Hawai'i at Mānoa. She worked in the Hawai'i Department of Education for over 15 years, teaching in general education classrooms for kindergarten through fifth grade. She also served as a central district reading resource teacher, state level standards resource teacher and worked with the state's Reading Challenge initiative. Kai began teaching kindergarten at 'Iolani in January 2010 and spent the next school year as a part time language arts teacher for kindergarten and first grade. She also serves as an 'Ioalni Junior First Lego League coach for grades second and third grade. She and husband
Darren
'88 have two children
Koby
'21 and
Keely
'23.
Kristin Masunaga '99 |
Physical Education
A daughter of 'Iolani,
Kristin Masunaga
'99 is currently the head coach of the 'Iolani girls varsity soccer team. She received her undergraduate degree from Colorado College and is currently earning a master's of education from Hawai'i Pacific University. She has also been a teacher in the 'Iolani summer school program. In her free time she enjoys working out and spending time with her son
Nine
. 
Jami Muranaka |
Lower School Science
Jami Muranaka
earned her bachelor of science degree in biology from the University of California, Los Angeles (where she met husband
Garett
'89) and her masters degree in secondary science education from the University of Hawai'i at Mānoa. She taught biology for the past 15 years, first at Kaiser High School and then at Kaimuki High School. She has also taught at 'Iolani for the past five summers. In 2007, she received the Hawaii State Teacher of the Year Award, and as a result had the opportunity to meet President and Mrs. George W. Bush in the Oval Office of the White House. Most of her time outside of school is spent shuttling her daughters,
Emi
'18 and
Misa
'21, to their various activities. She also coaches her daughters' youth soccer teams.
Scott Saltman |
Physics (One Year)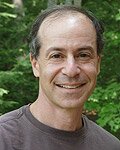 Scott Saltman
earned his bachelors degree in physics from Amherst College and did graduate work in physics at Brown University. He began his teaching career at Charlotte Country Day School before going to Phillips Exeter Academy in New Hampshire where he has taught for the last 20 years. At Exeter, Scott taught physics and astronomy, coached volleyball, served as project shepherd for the construction of a new science facility and, most recently, as science department chair. He  was a reader for AP Physics exams from 1995 to 2007 and served on the AP Physics Test Development Committee from 2003 to 2007.  Saltman has always lived in close proximity to the Atlantic ocean, including a semester abroad for college. He moves to the Pacific with his wife
Lauren
, son
Evan
'18 , and daughter
Rachel
, all who hope to learn to surf.
Karen Swain |
English (One Year)
Karen Swain
, who has a bachelor of arts degree from Hamilton College, has taught at The Bullis School in Potomac, Maryland and the International School of the Sacred Heart in Tokyo, Japan. She has lived in the Philippines, Italy, England, Canada, the Netherlands and Japan. She loves traveling around the world, teaching and spending time with her husband and thre children. Last year, she replaced 'Iolani teacher
Peter Greenhill
during his sabbatical. She is excited to continue teaching American Literature at 'Iolani.
Patrick Tom |
Upper School Counselor
Patrick Tom
earned his bachelors degree in sociology from Northern Arizona University. He worked for in Tucson, Arizona as a case manager for adults diagnosed with serious mental illnesses. He moved to Hawai'i and earned his masters degree in education from the University of Hawai'i at Mānoa. He was the director of counseling and an upper school counselor at Damien Memorial School for five years where he coached basketball. He enjoys spending time with his wife
Georgina
and 21-month old son
Kymani
. He also enjoys going to the beach, playing basketball, and cooking.