This Issue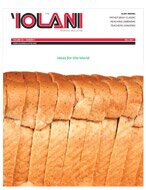 Ideas for the World
Read the full story »
Fall 2011 - Feature
| 'Iolani's Summer
Amazing Summer
At 'Iolani School, there's no such thing as a sleepy summer. Amazing was more like it. More than 2,600 students enrolled in summer classes and programs that stretched their imaginations, challenged them in unique ways, and elevated their senses. From musicals to magic and math, from recreation to sports and video production, the opportunities were boundless during summer 2011 for learning in refreshing and fun ways.
Preserving Our Oceans


Students created artwork that expressed the need to preserve the beauty of the world's oceans.
Students in fifth and sixth grade learned firsthand of the need to care for the world's oceans and marine life. Hearing from guest speakers, embarking on field trips, viewing documentaries and engaging in conversations were all part of a new six-week "Ocean Debris" course. Students tracked ocean debris from around the world, worked with th B-E-A-C-H organization, created artwork expressing the need to care for oceans and marine life, cleaned beaches on Windward O'ahu, and paddled to Mokauea Island to help with preservation efforts.
Down on the Farm
The summer program's youngest students in the entering kindergarten class experienced the wonders of learning. Teachers engaged their students with activities in reading and math that were enlivened with a fun, farm theme. One of the highlights was a square dance that engaged parent and family members in a do-si-does and knee slapping fun.


The entering kindergarten class enjoyed a joyous day.
Film Making For Impact
Students in ninth through twelfth grade discovered how filmmaking has the power to build a better world. By creating short films, they found their personal voices, exercised their vision for an issue they cared about and brought their ideas to life. Instructor
Risa Okamoto
is a former teacher who now produces and directs documentaries for the Discovery Science channel, National Geographic, and other media venues. In her class, students created public service announcements that were shown at the Hawaii Energy Forum this past July. Student short films were also entered into the Hawai'i International Film Festival.
Create Your Own Musical


Students created their own musical complete with original songs, dances and costumes.
The Create Your Own Musical class, conceptualized by parent
Mark Loughridge
, gave youths the opportunity to compose music, lyrics and arrangements as well as design sets and costumes and choreograph exciting dance moves for an original and amazing show. Enjoying a fishy themed show, fourth and fifth graders created a musical in which New York became Blue York and the Museum of Natural History was renamed the Museum of Natural Fishtory. It was the story of Stella the Starfish who goes to Blue York to follow her dreams. The musical also conveyed an important lesson: a person should pursue his or her passions, also that bullying is wrong.
Fourth of July Parade


Science teacher Kathy Warner '82 drives the Independence Day Float while General Robert Lee waves to the crowd.


Summer students show their patriotism and pride.
Independence Day is celebrated at 'Iolani with the most darling parade and program. Students in kindergarten to fifth grade marched in the 23rd annual Fourth of July parade on July 1 at Kozuki Stadium on campus. Wearing red, white and blue, students proudly waved homemade banners and favors and marched behind golf carts decorated as floats. World War II veterans from the 100th Infantry Battalion and 442nd were honored. Major General Robert Lee will serve as Grand Marshall. The program was highlighted with original student poetry, dancing and music.
Volunteering in South Africa
Science teacher Paul Heimderdinger travelled to the Republic of South Africa to volunteer as a teacher. The
'Iolani School Bulletin
asked him to recap his experience.
I held physics workshops with seventh through ninth grade teachers from schools in the rural areas around Mthatha, a city near the birthplace of
Nelson Mandella
. It was organized through Teachers Across Borders under the direction of
Yunus Peer
, a former South African and teacher at Punahou. Our goal was to help more students from these remote country schools pass their matriculation exams and eventually attend college. My task was to help teachers enhance their teaching skills and to learn how to use everyday items for science experiments. Discarded plastic bottles were cut and became beakers with the tops as funnels for chemistry. Small holiday lights were cut apart and used for electricity experiments, and aluminum cans, rubber bands and paper clips became lab equipment. The South African teachers voluntarily gave up a week of their winter break to attend the workshops. I also worked with some college students and helped deliver donated supplies to elementary schools. Winter in South Africa takes place in June and July so the weather was cold, yet the people are warm and friendly. The work was very rewarding, the country beautiful, and the wild animals thrilling to see. I am anxious to return.


Science teacher Paul Heimerdinger volunteered in South Africa this past summer.
KA'I Bridges 'Iolani and Jarrett Middle School


Jarrett Middle School students enrolled in 'Iolani's KA'I program this past summer worked in a taro patch or lo'i during a field trip.
KA'I is an acronym for Kukulu Alaka'i 'Iolani which stands for the creation of leaders. This past summer marked the second year of 'Iolani's KA'I program which a partnership between 'Iolani School and Jarrett Middle School, a public school in Palolo Valley.


From left to right: KA'I students Isaac Waikiki (left) and Bailey Uehara (right) formed special friendships with 'Iolani student mentor Brian Freeman '12 this past summer.
Last summer, 13 seventh graders from Jarrett enrolled in the program at 'Iolani which provides student and faculty mentors, learning opportunities, guest speakers, field trips, and lifelong lessons in citizenship. This summer, an additional group of seventh graders plus last year's students, now Jarrett eighth graders, returned. What do you get when you mix 'Iolani's outstanding educational programs with Jarrett students who are inquisitive, curious, and raring to experience new things? A positive win-win experience for both schools! Under the leadership of 'Iolani community service coordinator
Allison Ishii
'02, the KA'I program flourishes each year, making our community a better, more sharing place.