This Issue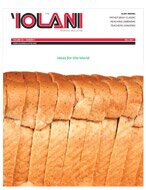 Ideas for the World
Read the full story »
Fall 2011 - Feature
| Father Bray Football Classic
Football, Friends & Remembering Father Bray
The 48th annual Father Bray Football Classic was held on August 13 at Aloha Stadium with more than 300 people attending a pre-game reception under a tent on the stadium grounds. The double header included a game  between Kalani and Kapa'a high schools followed by 'Iolani versus Radford.
"He was a profound influence on all of us, one of the three or four people in my life who made the greatest impact on me. He was kind and thoughtful; ruthless and disdainful; brilliant and simple; absent-minded and focused, a many faceted person. I can still see him and smell his tobacco smoke."
- Wilmer Morris 'X41 in an essay on Father Kenneth A. Bray
Organized by the 'Iolani Institutional Advancement office, the event honors the memory of Father Kenneth A. Bray, 'Iolani's legendary coach and founder of the school's athletic program. 'Iolani School archivists displayed historical items from the Bray era. These included the legendary shoe of Seabiscuit that Bray used as a symbol of inspiration for his players, some original letters Bray wrote to players, sketches of football plays.
During the reception, three alumni were recognized as Father Bray Honorees for perpetuating the One Team spirit during their school days at 'Iolani and throughout life. The honorees were
Walter Chang
'40,
Frank Kaho'ohanohano
'51, and
Wilmer Morris
'X41. 
Walter Chang '40
Walter Chang
'40 was born on Kauai where he attended elementary school. He lived with his grandmother in Kalihi after moving to Oahu to attend 'Iolani School. He played football under legendary Coach Father Kenneth A. Bray, and helped lead the 1939 Championship team to a season of five wins, two ties and no losses. Walter attended the University of Hawai'i but when World War II forced the university to close, he went to work as an apprentice at Hickam Air Force Base, over hauling airplane engines and other responsibilities on the flight line. In 1945, he and a partner started the company Highway Construction. He also invested and built different properties and apartments. He and his wife Ruth have been married for 66 years. They have four children,
Carol
,
Arlene
,
Dennis
'65 and
Brayson
; and a grandson
Martin
'99. He has enjoyed fishing from his boat in Keehi Lagoon and hunting on Moloka'i and Lanai.
Frank Kaho'ohanohano '51
Headmaster Dr. Val Iwashita '67, Cynthia Iwashita, Frank Kaho'ohanohano '51, Whitey Kaho'ohanohano, Susan Streadbeck, Chris Shimabukuro '85
See more photos »
Frank Kaho'ohanohano
'51 was a member of 'Iolani's championship football, basketball and baseball teams in the 1950 - 51 year. This was the only year in 'Iolani history that the school took home the crown in all of three of those sports. He also played golf and ran track. He recalls that his coach Father Bray inspired him in many aspects of life, not just in athletics. After graduating from 'Iolani, Frank attended the University of Hawai'i. As a freshman, he made the first string of the university's football team and was selected to play in the 1951 Hula Bowl. Back then, the Hula Bowl was a two-day event that pitted local players and All-American players against professional football players. Frank was a defensive back in the bowl game. His years at UH were interrupted by a call to serve in the Korean War. After four years in the air force, Frank embarked on a 32-year career as a firefighter. He retired in 1989 as the Fire Chief of the Honolulu Fire Department. Now a widower, Frank has two sons, a daughter, and three step-children. His granddaughter
Carrie Ann Randolf
'13 attends 'Iolani.
Wilmer Morris 'X41
Born on Moloka'i,
Wilmer Morris
'X41 was a boarding student at 'Iolani during his 8th, 9th and 10th grade years. Hi lived in Staley Hall which over looked the school's football field back on the old Nu'uanu Campus. He says he didn't play on the field because he was the water boy. Yet Father Bray considered him equally as important as the strongest fastest players, and that earned Bray the respect from Morris that would last until this day.
John Lee '47 was pictured with Father Bray in an iconic photo of both them kneeling on the sidelines of the field in 1946. At a pre-game reception for the Father Bray Classic, he held up the history book At Thy Call We Gather which includes the photo.
See more photos »
When Wilmer's grandfather died, he moved into his grandmother's home near Punahou School so his family enrolled him in Punahou his remaining high school years. Wilmer went on to attend the University of Hawai'i, but was called to serve during World War II. His army career lasted until 1947. He went on to have a successful career in finance, insurance and real estate. He retired as the vice-president of Bishop Trust Company. He also served as a board member and president of several non-profit organizations including Bishop Museum, Friends of 'Iolani Palace, Duke Kahanomoku Foundation, and Hawai'i Pacific University. He and his wife
Jane
and have four children from his previous marriage:
Linny Morris
,
Posie Constable
,
Tovy Morris
, and
Allison Recek
. He also has four grandchildren.