This Issue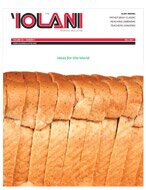 Ideas for the World
Read the full story »
Fall 2011 - Feature
Learning through BrainDance
by Lisa Lee Simon '88
"People need to move joyfully and meaningfully to develop strong brains and bodies."
— Ann Green Gilbert, Brain-Compatible Dance Education
The ability of dance to enhance young lives has long been valued at 'Iolani.
More than 20 years ago, 'Iolani School embarked on an initiative that recognized the educational and developmental value of dance. More specifically, the Lower School dance curriculum continues to evolve and explore ways that heighten learning experiences. 
Thanks to the school's professional development program, I was able to attend a weeklong teacher training session at the Creative Dance Center (CDC) in Seattle, Washington. The Summer Dance Institute for Teachers (SDIT) Brain-Compatible Dance Education training session was led by CDC Director
Anne Green Gilbert
.
"Integrating BrainDance will enhance the learning experiences of their talented young students."
Green Gilbert, internationally recognized as one of the leaders in dance education, developed BrainDance based on eight movement patterns of early human development which wire the central nervous system.  Forty hours of intensive work at SDIT with arts educators from around the globe focused on the exploration of cutting-edge dance pedagogy such as brain-compatible teaching methods and the power of BrainDance for people of all ages. 
"It's outstanding that 'Iolani School built dance into its early education curriculum over twenty years ago and so strongly supports the professional development of its faculty," said Green Gilbert.  "Integrating BrainDance will enhance the learning experiences of their talented young students."


'Iolani School's professional development program allows faculty to enrich their methods with innovative ideas. Dance teacher Lisa Lee Simon '88 attended the Summer Dance Institute for Teachers (SDIT) Brain-Compatible Dance Education seminar in Seattle.
According to Green Gilbert, BrainDance serves as an effective full body and brain warm-up for any physical or cognitive activity such as tests, presentations, or performances, and is revitalizing after extended sitting at the computer. 
Benefits of the BrainDance include 1) increased blood and oxygen flow to the brain, 2) reorganization of the neurological system, 3) enhanced core support, connectivity, and alignment, 4) assessment of neurological issues, and 5) deeper understanding of dance technique elements. This centering brain/body work used in schools internationally has resulted in positive outcomes with class management, student behavior, learning, and improved ability to focus. 
This fall, Lower School students will enjoy conceptual dance classes specifically redesigned to:
Ignite the senses.  Students will be introduced to dance concepts by "hearing it, seeing it, saying it, and doing it."
Practice collaboration. Even our youngest learners will experience leading and following, partnering, peer coaching, group work, and participation in discussions for social/emotional growth.

Foster creativity. Dancers will be encouraged to develop their imagination, critical thinking skills, and problem-solving techniques through creative improvisation.
Experience pure fun. Lessons will be enhanced with musical instruments and props such as scarves, foam noodles, elastic bands, and even rubber chickens to promote laughter and to excite students' developing brains.
The experience of training with Anne Green Gilbert and other accomplished guest faculty at CDC has been life altering. It has offered me opportunities to integrate movement with intellectual learning, to develop holistic dance experiences, and to complement the meaningful classroom work of my 'Iolani faculty colleagues—all to provide our students with a full, well-rounded educational experience.
Lisa Lee Simon '88 has been teaching dance at 'Iolani for nearly 20 years.