This Issue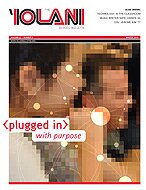 Winter 2010
Plugged In with Purpose
Read the full story »
Winter 2010 - Department
| Giving to 'Iolani
Gratitude for Donors to the Stone Scholarship Tuition Program
It was an emotional moment  for
Rebeka (Hvidding) Takayama
'96 to meet 'Iolani students who now receive the same scholarship she received more than 13 years ago.
Rebeka was a Stone Scholarship recipient. Now she and her husband
Michael Takayama
'96 are donors to the program that she benefited from years ago.


Scott Fujii, Rebeka (Hvidding) Takayama '96, Michael Takayama '96, Lorilyn Park, Thomas Park '96.
"When someone receives what we have been given, you cannot help but develop an attitude of gratitude," Rebeka shared.
Thanks to First Hawaiian Bank, a gathering to acknowledge donors, who are members of the Stone Scholarship Circle, was held on November 10 at The Bankers Club on the 30th floor of its downtown headquarters.


David Hulihee '67, Don Takaki, Christina Doane, Allen Doane
Headmaster
Val T. Iwashita
'67 and
Jenai S. Wall
, chair of the 'Iolani Board of Governors, expressed gratitude to those supporting the Stone Scholarship Tuition Program in its inaugural year.
The Stone Scholarship Tuition Program was founded to aid students who are recipients of Albert H. Stone Memorial Scholarships. Each year, 'Iolani awards full renewable scholarships to up to 24 students in ninth to twelfth grades on the basis of high achievement and financial need. Donors to this program belong to The Stone Scholarship Circle.


Mark Yamakawa '74, Don Horner, Bill Mills, Mark Teruya, Jenai Wall, Val Iwashita '67, Sharon Brown, David Hulihee '67.
Current Stone Scholars
Tue Vaea
'11 and
Nani Buntenbah-Leong
'11 described how, if not for their Stone Scholarships, they would have been unable to attend 'Iolani.


Susan Haruki, Todd Haruki '85, Steven Ai '72, Robin Kaneshige, Glen Kaneshige '79
Rebeka also shared her background. She was born and raised in Waianae. Her father was a Child Protective Service social worker,  and her mother was a psychiatric nurse. She is one of five children, and her parents could not afford to send even one to 'Iolani. Yet four of them attended 'Iolani – three (Rebeka,
Rachel Adams
'96 and
Joshua Hvidding
'98) as Stone Scholars and one (
David Mamae
'98) as a Father David Coon Scholar.
A graduate of Clark University and the William S. Richardson School of Law, Rebeka is now a family court attorney. She and her siblings give back by devoting their careers to service industries.


Nani Buntenbah-Leong '11, Sandy Lau, Curtis Lau '77 and Tue Vaea '11.
Rebeka also gives back to 'Iolani by contributing to the Stone Scholarship Program because she knows firsthand how students benefit from a positive, nurturing environment grounded in responsible, moral citizenship.
"It's a great opportunity to give somebody else the chance that we received," she said.  "'Iolani really was a life-changing experience."
For information about the Stone Scholarship Circle, contact Director of Institutional Advancement
Jane Heimerdinger
at (808) 943-2325 or , or Director of Development
Chris Shimabukuro
'85 at (808) 943-2256 or .