This Issue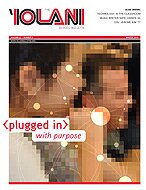 Winter 2010
Plugged In with Purpose
Read the full story »
Winter 2010 - Department
| Alumnus Profile
Alumnus Profile
Jerome Hahn Kim '77


Positions:


Colonel, U.S. Army Medical Corps; Deputy Director Division of Retrovirology and Chief, Department of Molecular Virology and Pathogenesis at Walter Reed Army Institute of Research; Product Manager for HIV Vaccines for the US Army


Education:


University of Hawai'i, B.A.; Yale University School of Medicine, M.D.; Duke University, residency and fellowship


Family:


Wife Silvia Ratto Kim, daughters Alessandra, 11, and Anastasia, 8


Resides:


Bethesda, Maryland

Around the world, more than 25 million people have perished from AIDS. But recently something hopeful happened.
Results from an HIV-1 vaccine clinical trial conducted in Thailand and announced this past September showed, for the first time, that a vaccine could protect against HIV infection.  Although the effect was modest at 31.2%, this was an important scientific achievement. The news made international headlines and was the center of discussion at the AIDS Vaccine Conference in Paris in October. The possibilities have global ramifications, and a key member of its research team is an 'Iolani graduate.
COL
Jerome Kim
'77 is one of three doctors leading the U.S. Army's HIV research program, which ran the study along with the Thai Ministry of Public Health and other collaborators.
(The other two doctors are also coincidentally from Hawai'i: COL
Nelson Michael
, director of the US Military HIV Research Program graduated from Punahou and Dr.
Merlin Robb
, deputy director of clinical research, is a Radford alumnus.)


COL Jerome Kim '77 and his family are pictured in Washington, D.C. Left to right, Allessandra, Silvia, Anastasia and Col. Kim.
Their study evaluated the vaccine's ability to prevent HIV infection as well as reduce the amount of HIV in the blood of those who became infected after they enrolled in the study. The trial took place over six years and involved more than 16,000 HIV-negative Thai men and women who volunteered through the Thai Ministry of Public Health.
"Experts are interpreting the results and planning additional studies to maximize the knowledge gained from this study," Kim said. "Our first step is to see if we are able to determine correlates of protection."
About seven years ago Kim and his family had returned to Hawaii to live and work, but the Army suddenly requested that he relocate to Thailand to help oversee the trial. With its completion, they have returned from Thailand and now live in Maryland close to Walter Reed Army Institute of Research where he continues to investigate the possibilities.
Research has always been a passion for Kim.
From his 'Iolani days, he recalls taking beginning biology from
William Sumner
, and chemistry and Advanced Placement biology from
"Papa" Jack Kay
and always being fascinated. Capt.
Robert Sleight
's history classes also kept him riveted, and
Harold Keables
English class assignments taught him how to write well.
"I still think about Mr. Braden's talks on perfect number theory, topology and Godel's theorem," he shared.
Kim still stays in touch with five of his 'Iolani friends and classmates who were also students of Papa Jack. They also went on to become doctors making a positive difference in their fields: Dr.
Kaye Kawahara
'78 is in Hematology-Oncology, Drs.
Alan Tanaka
and
Michael Ho
'77 are anesthesiologists; Dr.
Mark Mugiishi
'77 is a surgeon; Dr.
Hank Wuh
'77 is an orthopedic surgeon and a leader in the biotechnology field in Hawai'i.
"It's very exciting," Kim says of his high school friends. "We still get together and laugh about our times as students."
Throughout Kim's journey, his projects and interests have been stepping stones to what he does now with his multidimensional research program that encompasses vaccine research and development, HIV prevention research and clinical research.
In Papa Jack's class, he once wrote a paper on regeneration of tissue, such as geckos' tails growing back after falling off. Later, at the University of Hawai'i, his undergraduate thesis topic was on invertebrate development.
Meanwhile, to pay for medical school, Kim joined the Air Force. During medical school at Yale, he became interested in immune systems, antibodies and their development. His mentor was renowned immunobiologist Dr.
Kim Bottomly
who is now the president of Wellesley College.
Soon it was the early 1980s and AIDS was debilitating more and more people. During his residency at Duke, he became interested in HIV research and met another great mentor Dr.
Warner Greene
, a prominent virology and immunology researcher now the head of the Gladstone Institute at the University of California, San Francisco.


COL Kim and his family return to Hawai'i often. They are pictured at the Outrigger Canoe Club during a past visit. Left to right, Col Kim, mother Marjorie Kim, aunt Annie Chung, wife Silvia, daughters Alessandra and Anastasia and aunt Victoria Finney.
He later joined the Division of Retrovirology at Walter Reed Army Institute for Medical Research where he met his colleagues from Hawai'i and his wife,
Silvia Ratto Kim
, who was from Italy and has a Ph.D in immunology. Part of his career was spent treating patients with HIV and AIDS at the University of Maryland Medical School in Baltimore, Maryland. He eventually returned to the Army in 2000 to conduct research with the Department of HIV Vaccine Research, Division of Retrovirology at Walter Reed.
After moving briefly back to Hawai'i in 2002, he was the chief of biomedical research service at Tripler Army Medical Center and is currently a clinical associate professor of medicine at the John A. Burns School of Medicine at the University of Hawai'i. While at Tripler he was able to do research with a local biotechnology company, Cellular Bioengineering, Inc., run by his friend Dr.
Hank Wuh
.
Being a leader on the most successful study thus far of an AIDS vaccine has been thrilling. Immediately after the study's results were made public on September 24, Kim and his team received calls from scientists and media around the globe, from CNN to NPR to the small newspaper in the Italian Riviera hometown of Kim's wife.
He may have begun his scientific journey in the humble science labs of 'Iolani, yet one element of his work has remained constant.
"You have to do something that you have a passion for," he said. "And I really enjoy my job. Every day there is a new challenge, whether managing a trial in Thailand or in Washington, or researching with your friends from school."