This Issue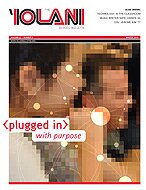 Winter 2010
Plugged In with Purpose
Read the full story »
Winter 2010 - Department
| Slice of Sports
Slice of Sports
Fall Sports Wrap Up


Quarterback Jarrett Arakawa '10 readies for a pass on the Eddie Hamada Field.
The Interscholastic League of Honolulu (ILH) fall sports season has passed. Winter sports are underway to be followed by the spring season. The following results are for the fall varsity sports.
Football:
  ILH Division II Champions, State Division II Champions
Boys Bowling:
Tied for 6th in ILH
Girls Bowling:
Tied for 6th in ILH
Boys Cross Country:
2nd in ILH
Girls Cross  Country:
3rd in ILH
Boys Kayaking:
5th in ILH
Girls Kayaking:
4th in ILH
Girls Volleyball:
3rd in ILH
Boys Water Polo Div I:
3rd in ILH
Boys Water Polo Div II:
4th in ILH
Student-Athletes Bound for College


Scott "Scooter" Sakaida '10, center, will play volleyball for Stanford University. Also pictured are his parents Eric and Lauree Sakaida and grandparents Mae and Larry Hiranaka.
It was a childhood dream come true and cause for celebration. Four seniors in early November signed national letters of intent to play collegiate sports.
Of the four, three are volleyball players who made their commitments official by signing in the Office of the Headmaster on November 12.
Libero
Scott "Scooter" Sakaida
'10, a son of 'Iolani, will attend Stanford University next fall.


Edward and Virginia Kam, Mahina Haina '10, and John and Lisa Haina.
Outside hitter
Mahina Haina
'10 will play for Cal State Northridge.


Tim Youart, Mason Youart, Alissa Youart '10 and Kanani Youart.
Outside hitter
Alissa Youart
'10 will attend Southern Utah.
All-around athlete
Jarrett Arakawa
'10, a left-handed pitcher, first baseman and outfielder, signed to play baseball at the
University of Hawai'i
. He was also the starting quarterback on the 2009 ILH Division II championship football team and a member of the basketball team.


Headmaster Dr. Val Iwashita '67, coach Dean Yonamine '83, Jason Arakawa, Jarrett Arakawa '10, Liane Arakawa, Marcus Arakawa, athletic co-director Eddie Maruyama and Director of College Counseling Todd Fleming.