This Issue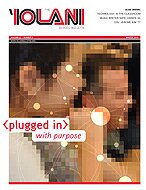 Winter 2010
Plugged In with Purpose
Read the full story »
Winter 2010 - Department
| Faculty & Staff File
Faculty & Staff File
Master's Degrees in School Leadership
Three 'Iolani teachers earned Master's of Education degrees in Private School Leadership in the Pacific Basin through a joint program between the Hawai'i Association of Independent Schools and the Educational Foundations Department of the College of Education at the University of Hawai'i at Mānoa. The program's mission is to educate those who hold or aspire to hold leadership positions, both formal and informal, in private and independent schools.


Physical education teacher Taryn Horner '00, history teacher Melanie Soares, and history teacher Erik Yamamoto '99 are congratulated by Headmaster Dr. Val Iwashita '67 for earning their master's degrees.
Bravo & Kudos
Theater teacher
Rob Duval
received rave reviews for his role as P.T. Barnum in the September production of Barnum: The New Musical at Army Community Theatre.
Sabbaticals for the 2010-11 school year were awarded to several teachers: English teacher
Peter Greenhill
will spend spring semester 2011 pursuing a master's degree in Educational Foundations at the University of Hawai'i at Mānoa; history teacher
Jeffrey Hackler
'71 will take the year to travel to the northeastern United States, China, Japan and Mongolia to gather information to share with students; French teacher
Catherine Pettit
will spend the year attending conferences and traveling to French Polynesia and France to establish contacts for 'Iolani students; math teacher
Amy Yonashiro
will spend spring 2011 investigating technology and math instruction; student activities director
Kirk Uejio
'98 will develop a leadership program for students.
Personal Notes
Band director Manny
Dayao
'97 and his wife Rosa who were married on July 8, 2009.
Science teacher
Lara Lee
and her husband
Steve
welcomed their baby
Arwen Malia Yi Fen
home from Changsha, China in May. She was born on June 23, 2008.
Photography teacher
Alison Uyehara Ngo
'86 and husband Viet are now the parents of a second child. Weighing 7 lbs and 6 ounces, son Kiran was born on July 26, 2009.