This Issue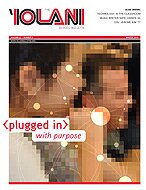 Winter 2010
Plugged In with Purpose
Read the full story »
Winter 2010 - Department
| School in Focus
School in Focus
School Spirit Soars at Homecoming
Homecoming Week at 'Iolani turned the whole campus into a red, black and white spirit festival. The final days of October were highlighted with a Homecoming kick off, fun-filled dress up days, a cheer fest competition between grade levels in Upper School, a football game, Ho'olaulea and the Burning of the I.


Andrew Skalman '10 and history teacher Jeffrey Hackler '71 on October 26 punt pig skins across the center courtyard to kick off Homecoming Week.


The Burning of the I illuminated the center courtyard on October 30.


Molly Palalay '21 radiates with Raider spirit at the Homecoming football game on October 30 against Word of Life. (photo by Dalton Sue)
Math Teams take first
The varsity and JV math team each placed first at meet 3 at Punahou School on November 21. Led by perfect scorers
William Chambers
'10,
Mitchell Kwock
'12,
Teresa Ou
'11,
Dustin Shigaki
'11 and
Mark Williams
'10 , the Raiders amassed 274 points to Kamehameha's 243, McKinley's 215, Punahou's 196 and Mid-Pacific's 175. 
The other team members were
Richard Chang
'11,
Hao Chen
'11,
Sean Cockey
  '10,
Anders Lee
'10 and
Cordelia Xie
'12.  This is the 22nd consecutive victory for the varsity. 
Led by perfect scorer
Adam Fong
'13, the junior varsity took first place with 100 points.  The other members were
Logan Davis
'13,
Yun Ji Im
'12
and Erin Main
'12.
IDP's A Commedia of Errors heads to Scotland
Claire Mosteller '10 as Dromio of Ephesus tries to explain strange happenings to her master Antipholus of Ephesus Jon Harwell '10.
See more photos »
Performing Shakespeare is not a simple task. Yet the 'Iolani Dramatic Players, under the direction of teacher
Rob Duval
, turned the Bard's
A Commedia of Errors
into a completely entertaining, stimulating and energizing piece of theater. Performances took place from November 4 to 7.
While the run in 'Iolani's Seto Hall ended, the show will go on at the Edinburgh Festival Fringe in Scotland in early August 2010. 'Iolani School was invited to perform at the Fringe, the world's largest theater festival.
Students have been busy fundraising to defray production and travel costs. While other Hawai'i schools have performed at the Fringe, this  trip will be 'Iolani's first.
Arushi Dutt '10, center, as Aemilia is reunited with her husband Aegeon (Taylor Van Etten '10), second from right, and her twin sons (Robert Moran '10 and Jon Harwell '10) after years of separation. Duke Solinus (Tyler Cundiff '10) observes from the far left.
See more photos »
A Commedia of Errors tells the story of two sets of identical twins who were accidentally separated at birth. Antipholus of Syracuse (
Jon Harwell
'10) and his servant Dromio of Syracuse (
Jackie Mosteller
'10) arrive in Ephesus which happens to be the home of their twin brothers Antipholus of Ephesus (
Robert Moran
'10) and his servant Dromio of Ephesus (
Claire Mosteller
'10).
When the Syracusians encounter friends and families of their twins, a series of wild mishaps based on mistaken identities lead to wrongful beatings, a near-seduction, an arrest, and accusations of infidelity, theft, madness, and even possession.
Pumpkins at the Patch


Kiana Hockenberger Leong '21, left, waves while Amy Hamada '21, right, also looks on.
There were plenty of pumpkins in
Farmer
and
Mrs. Iwashita
's patch this past October 15 as kindergartners and first graders square danced and picked their own orange treasures.
The annual Pumpkin Patch fall celebration opened with songs and dances in the gym followed by finding the Headmaster's lawn covered with bright, round pumpkins donated by Armstrong Produce. Children later weighed, measured and decorated the gourds so that the fun afternoon doubled as a learning experience.


First graders in the 1-makai classroom pose with their pumpkin pals.
Raising Funds for Disaster Victims
Students displayed the true meaning of "One Team" by raising money in November for disaster victims in the Samoan Islands, Philippines, and Indonesia.
The Red Cross Club collected boxes of clothing and undergarments for several weeks for disaster victims.
Students also held a bake sale to raise money for disaster relief efforts.  A psychology class, several 7th grade geography classes, the Economics & Social Entrepreneurship classes, Filipino Club, Youth Leadership Club, Leo Club, and girls Varsity Tennis Team baked their hearts out to raise money for the Red Cross.  They sold everything from brownies, mochi, muddy buddies, party mix, cupcakes and more.
The combined effort collected close to $3,000 for disaster victims.
Making a Difference
'Iolani students made two important contributions to the welfare of others at home and abroad.
In October, two heavy boxes arrived in Bujumbura, Burundi, Africa from members of 'Iolani's Club Ananda. The boxes contained school supplies, toiletries, and toys collected by 'Iolani students for students and teachers at an elementary school in Kazimia, Congo named after Dr.
Glenn Paige
of Honolulu, founder of the Center for Global Nonviolence and author of
Nonkilling Global Political Science
.
The mission of Club Ananda is to send charitable contributions to needy young people on other continents.  It supports the work of the Ananda Foundation, led by
Levani Lipton
'92 (www.anandafoundation.org), and other groups. 
Club Ananda's action comes parallels 'Iolani's Students for Peace club. 
Asia Ayabe
'10 and
Nestor Agbayani
'10 emceed the Ghandhi International Institute for Peace ceremony that honored Mahatma Gandhi and his principles of non-violence. The ceremony, held on October 2 (Gandhi's birthday), was held in front of the statue of Gandhi near the Honolulu Zoo. The event included speeches, music, dance, and cultural demonstrations by state government representatives, scholars, artists, and entertainers.
Speakers Share Insight with Parents


Dr. Tony Wagner spoke on developing 21st century learners.
'Iolani parents participated this past fall in the 'Iolani 'Ohana Speaker Series "Eat, Drink, See, Think - A Peek Out of the Box" which brought in well-known authors and educators Dr.
Tony Wagner
and Dr.
Robert Brooks
.
Wagner is the co-director of the Change Leadership Group at the Harvard Graduate School of Education and is the author of several books including
The Global Achievement Gap: Why Even Our Best Schools Don't Teach the New Survival Skills Our Children Need—And What We Can do About It
(
Basic Books
).
On October 1, Wagner spoke to parents about the "The Global Achievement Gap" and the qualities in young people that schools and universities teach and that mployers look for in new recruits. The next morning, Wagner spent the day with administrators, faculty and staff on developing 21st century learning skills in students.


Dr. Robert Brooks met with members of the 'Ohana Speaker Series committee, left to right, Michelle Yamaguchi, Rhoda Lynn Fajardo, Robin Shwetzer, co-chair Sheila Kagawa, Elizabeth McFarlane, Maria Villano, Lisa Sakamoto.
Brooks speaks on resilience, self-esteem, motivation, and family relationships. During the past 30 years, he has presented nationally and internationally to parents, educators, mental health professionals, and business people with a message based on encouragement, hope, and resilience.  He co-wrote
Raising a Self-Disciplined Child: Help Your Child Become More Responsible, Confident, and Resilient
(McGraw-Hill).
On November 2, Brooks lectured on "Raising Resilient Children" and shared advice on nurturing the ability to cope and overcome adversity.