This Issue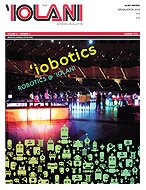 'Iobotics: The Roar of Scoreboards, the Flash of the Crowd
Read the full story »
Summer 2010 - Other News
| School
Graduation of the Class of 2010
The commencement ceremony for 'Iolani School's Class of 2010 was held under sunny skies on June 5 in the center of campus. Class president
David Jordan
'10 and valedictorians
Evan Masutani
'10 and
Kiana Block
'10 delivered inspiring speeches touching upon their memories as students and their hopes for the future.
Headmaster Dr.
Val Iwashita
'67 paid tribute to 'Iolani's newest graduates while recognizing the Class of 1960.
"Those of us who work and study at the 'Iolani of today owe a debt of gratitude to those who came before us," Dr. Iwashita said. "The Class of 1960 went into the world to build on the lessons they learned here.  They return today to celebrate the golden anniversary of their graduation."
The Right Reverend
Robert L. Fitzpatrick
and The Reverend
Daniel Leatherman
led the ceremony in prayer. Eventually, 222 names were read by senior class advisors
Lisa Bailey
and
Melanie Pfingsten
as the exuberant graduating seniors received their diplomas from 'Iolani chair of the board
Jenai S. Wall
.
Then, all stood to sing the 'Iolani alma mater before taking that first step into the world where they will experience how, at 'Iolani, friendships weave their mystic strands forever.
SCHOLARSHIP MEDALS
The winners of the Scholarship Medal, the 13 valedictorians of the Class of 2010, have from grades nine through twelve achieved the highest academic rank.
Kiana Block
William Chambers
Sean Cockey
Andrew Ellison
Ian Franklin
Anders Lee
Lauren Makishima



Evan Masutani
Kelli Morrissey
Milena Naitoh
Scott Sakaida
Grace Sakurada 
Kellie Wo
ALUMNI MEDALS
The alumni medals are awarded to two members of the class who exemplify the healthy combination of excellence in academics and athletics.
Kelli Morrissey
Scott  Sakaida
BISHOP'S AWARD
The Bishop's Award is awarded to a senior who has given unselfish service to church, school and community and who demonstrates outstanding witness to faith in christ and commitment to principle.
Joseph Fala
HEADMASTER'S AWARD
The Headmaster's Award is awarded to a senior who has made exceptional contributions to 'Iolani School.
Elissa Minamishin
UNSUNG HEROES
The following members of the Class of 2010 were acknowledged by Dr. Iwashita as "Unsung Heroes" who enrich 'Iolani School with their positive attitude and community spirit.
Karla Chikamoto
Arushi Dutt
Alyssa Kano
Mark Muraoka
Brian Yamamoto
Kelcie Lei Nagata
Alex Min


Justin Rath
Shelby Senaga
Ashlyn Koga
Cameo Lethem
Andie Enomoto
Taylor Van Etten