This Issue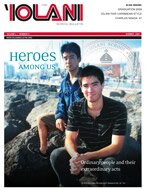 Ordinary people and their extraordinary acts
Read the full story »
Summer 2009 - Other News
| School
Board of Governers: Message from the Chairman of the Board
Board of Governors Adopt Bylaws Revisions
On April 21, 2009, 'Iolani School's Board of Governors unanimously adopted revisions to its bylaws. It had been almost 40 years since any major revisions had been made to that document. The most significant revisions were established for the first time in its history: term limits for both members and officers. In the case of members, the changes limit each member to a maximum of three consecutive four-year terms, for a total of 12 years. In the case of officers, the changes limited a member to a maximum of four consecutive two-year terms, for a total of eight years in any one office.
One might wonder why such changes were necessary, as the school had achieved singular success in selecting and maintaining members of its governing body as the current board members averaged approximately 23 years of service each compared with an average of all independent (private) schools nationwide of about five years. These issues were studied and discussed for over two years before the changes were voted into effect on April 21. The board believes that it is in the best interests of the long-term existence of the school that its members serve liberal but limited terms to assure the continued intake of fresh and energetic minds and ideas.
In order to implement the changes occasioned by the revisions, four long-standing, dedicated and treasured members offered to retire during or before June 2009. The four members, Mr. Murray Grune, Mrs. Barbara Ishida, Mr. J. Michael Sen '59 and Mr. Tamotsu Tanaka '53, represented tenures of 22, 30, 21 and 40 years, respectively, a total of over 110 years of service to `Iolani! Please join the Board of Governors in expressing our sincere and deep appreciation to them for all they have done and the way they have represented Iolani as trustees.
Murray, Barbara, Mike and Tamotsu, you have collectively been dedicated and steadfast members of Iolani's governing board for many years and have been responsible for guiding the school in good times and in bad times to its present position as one of the finest independent schools in the nation. We cannot thank you enough, and so we merely say mahalo from the bottom of our hearts.
James Kawashima '60
Chairman, Board of Governors
Recognizing those retiring from the
'Iolani Board of Governors
Mahalo to the following individuals who recently retired after serving years of dedicated service on the 'Iolani School Board of Govenors. Their leadership, vision and commitment are steadfast. Their love of 'Iolani runs deep.
Barbara Ishida

Year elected to the Board:
1979 (She followed Ruth Maehara who was elected in 1972 to the board.)

Position:
Community Service Leader
Family:
Husband Dr. Harry M. Ishida; daughters Linda Chun and Brenda Ishida Correa; son Dr. Harrison M. Ishida '79; grandchildren Laura Chun '04, Nicholas Chun '09, Jeeter Ishida (Punahou '08) and Hannah Ishida (Punahou '09)
Pastimes:
Volunteering with non-profit organizations
Meaningful 'Iolani Board Experience:
Meeting and interacting with so many people from all backgrounds throughout the 'Iolani community








"I have learned and gained so much," Ishida said.


Murray Grune

(retired in 2007)


Year elected to the Board:
1985

Position:
Retired Chief Executive Officer and Chairman of the Board of the Hawaii Stevedores

Family:
Wife Marjorie; daughter Caryn Wagner; sons Randy Grune '74, Martin Grune'77 and Sterrett Grune '78; grandchildren Kerstin Grune, Hannah Grune, Daniel Wagner, Audri Wagner, Connor Grune '12, Sutter Grune '14 and Gunnar Grune

Pastimes:
Deep sea fishing, boating, snorkeling, carpentry, traveling
Meaningful 'Iolani Board Experience:
Witnessing the transition 'Iolani has made from being a little school to the great school of today








"Seeing the campus evolve over the years with its outstanding facilities has been a fulfilling and rewarding experience," Grune said.


R. Michael Sen '59

Year elected to the Board:
1988

Position:
Chairman of Ryan Michael Corporation and its subsidiaries (office furnishings, bank equipment and security systems)

Family:
Wife Freida, son Ryan Sen, grandson Jonah Sen '17

Pastimes:
Travel, working in the yard, spending time with grandson
Meaningful 'Iolani Board Experience:
Researching and working on the acquisition of the Laau and Date streets property for future generations of students








"It will be a tremendous legacy for the people who come after us," Sen said.


Vice Chair Tamotsu Tanaka '53


Year elected to the Board:
1969

Position:
Retired Attorney

Family:
Wife Esther; sons Tod Tanaka '75 and Jon Tanaka '80; daughters Tracy Tanaka and Elizabeth Ann Iwata; grandchildren Kevin Tanaka '09, Emily Tanaka '14, Julia Tanaka, Christopher Tanaka, Gregory Tanaka, Toby Tobin '21, Luke Tobin, Maxilian Tobin, Anna Iwata and Jackson Iwata

Pastimes:
Golfing, traveling, spending time with grandchildren
Meaningful 'Iolani Board Experience:
• 'Iolani receiving the 1973 gift from the Castle Foundation of land in windward Oahu valued at $17.2 million which provided financial stability for the school and allowed the board to make long-range decisions

• Making 'Iolani coeducational in 1979

• Deciding to maintain small class sizes and, thus, keeping 'Iolani's teacher-student ratio low

• Adopting the athletic program's motto of One Team into the educational aspects of 'Iolani as well









"There is no I in team," Tanaka said.

"That is a valuable concept for kids to follow."