This Issue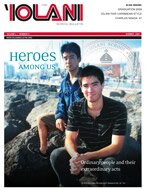 Ordinary people and their extraordinary acts
Read the full story »
Summer 2009 - Feature
'Iolani Fair 2009: Cruisin the Caribbean
An estimated crowd of 30,000 people visited the fair as students, parents, alumni, faculty and staff rolled up their sleeves to contribute to its success.  From working in the scrip booth to manning the fishing game to slicing pineapple, roughly 3,000 volunteers made the fair a spring highlight.
"The success of the fair is due to the thousands of volunteer hours invested in this event," said fair coordinator
Amy Tomisato
. "It is the one event that brings the entire 'Iolani community together."
Juniors in the Class of 2010 volunteer in the malasada booth: Kelli Kaneta, Mirabel Koiki, Ross Horiuchi, Kyle Hanaoka and Alex Matsunami.
See more photos »
Games such as Frog Bog and the Dime Toss were hits with the kids, while gourmet food including the Caribbean-themed jerk chicken wrap were popular with grown ups. Longtime favorites like malasadas, barbecue chicken, kim chee, pickled mango and huli beef sandwiches were finger licking good. A new steak and shrimp plate appeased the appetites of surf-n-turf lovers.  The futsal tournament during the day and movies at night put the football field to productive use.  Jams and jellies and other home-baked goodies pleased the palate.  The talent show "Reach for the Stars" featured students from 21 different schools and great entertainment kept audiences awed.
"The local community embraces our fair as a must-attend event each year," Tomisato added.
The fair grossed approximately $650,000 with proceeds benefiting student programs and campus improvements.
Mark your calendars and attend next year's Fair on April 16 and 17, 2010.
'Iolani Fair "Cruisin the Caribbean" on April 17 and 18 was fun for the whole family with games, rides, crafts, food, an art sale, produce, plants, a boutique, marketplace, movies, entertainment and more on a beautiful sunny day in paradise.