This Issue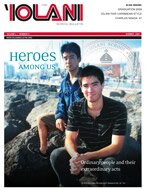 Ordinary people and their extraordinary acts
Read the full story »
Summer 2009 - Department
| Faculty & Staff File
Faculty & Staff File
New to Institutional Advancement    


Sandee Moriki-Shiu recently joined the Institutional Advancement Office.
Sandee Moriki-Shiu
joined the Institutional Advancement Office this past April as secretary to the Development Director (
Chris Shimabukuro
'85) and liaison to the 'Iolani 'Ohana parent organization.  She is a certified public accountant who was previously with Ernst & Young LLP, the Sullivan Family of Companies and, most recently, KMH LLP.   Moriki-Shiu and her husband,
Dan Shiu
'87 have two sons,
Dylan
'18 and
Jordan
'20.  (She replaced
Norma Murayama
who plans to relocate to Philadelphia with her family.)
Accomplishments
Compositions and arrangements by organist
John McCreary
and choral director
John Alexander
were selected by
Nola Nahulu
, founder and artistic director of the Hawai'i Youth Opera Chorus, for an oratorio choir concert at Central Union Church on May 3.
Theater teacher
Rob Duval
played a lead role in the Hawaii Pacific University production of
The Glass Menagerie
this past April.  He also directed the musical
Dirty Rotten Scoundrels
at Diamond Head Theatre this past May.  
Band teacher
Richard Hotoke
retired this past school year after teaching for 36 years, 22 of which were spent at 'Iolani, 10 at Moanalua High School, and four on the mainland.  Heartfelt mahalo goes to Hotoke for his years of service.  
Headmaster Dr.
Val Iwashita
was recognized recently by the National Association of Independent Schools (NAIS) for completing a three-year-term as its Chairman of the Board of Directors.  He received a standing ovation at the NAIS annual conference in Chicago in February.


Oprah Winfrey, a keynote speaker at the NAIS annual conference, congratulated Dr. Val Iwashita '67 on his three-years of service as the NAIS Chairman of the Board of Directors. Photo by Rodney Choice.
Personal Notes
Congratulations to fourth grade teacher
Steve Doi
'83 and his wife
Julie
on the birth of their son,
Tyler Masuo Doi
, on May 13.
Warm wishes to art teacher
Ryan Roberts
'96 and his wife
Kira
on the birth of their won,
Owen Chapman Roberts
, on April 12. (Congratulations also to new grandpa and longtime 'Iolani art teacher
Dave Roberts
and wife
Randi
.)