This Issue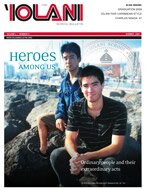 Ordinary people and their extraordinary acts
Read the full story »
Summer 2009 - Department
| School In Focus
School In Focus
Nationally Recognized Real World Design Team   

'Iolani School captured the national championship title in the U.S. Department of Energy's 2009 Real World Design Challenge (RWDC) competition in Washington, D.C., on March 20 to 22.
Physics students on the winning team included
Amy Ko
'09,
Anya Liao
'09,
Celia Ou
'09,
Jessica Lynn Saylors
'09,
Julia Zhang
'09 and physics teacher/coach Dr.
Carey "Doc" Inouye
'66. Fifty-four high school students representing ten states from across the nation competed in the National Challenge. The finals were held at the Smithsonian's National Air and Space Museum.


Physics teacher Doc Inouye and the national champions gather around the Cessna model they received at the Real World Design Challenge.
"The challenge itself was a great experience," said Saylors.  "We got to use advanced software that we will probably see again, and we were able to design an experiment to optimize our results, as if we were real scientists working on more than just a high school competition."
The Real World Design Challenge (RWDC) is a new annual competition that provides high school students with the opportunity to apply the lessons of the classroom to important energy and environment technical problems currently encountered in the engineering field. The final competition was judged by seven industry and academic experts.
The 'Iolani team won a contribution of $3,000 to the school's science and technology department, a Real World Design Challenge Trophy and a model of the Cessna Citation X aircraft, provided by the Cessna Aircraft Company. Each team member also received an iPod Shuffle, courtesy of Parametric Technology Corporation.
"The Real World Design Challenge was one of the inspiring and beneficial opportunities I've had in high school," said team member Zhang. "I came out of it a great deal more educated about aerodynamics and engineering software, excited about a possible career in engineering (when it wasn't even a consideration before), and closer to my fellow team members."
The RWDC first took place at the state level with the Governor's Challenge. Student teams were asked to redesign an existing aircraft to maximize its fuel efficiency while meeting specific performance capabilities. Students used professional engineering software, donated at no cost by Parametric Technology Corporation, to develop their solutions. Each participating state selected its top team to compete at the RWDC National Challenge. 'Iolani teams won first and second place in the state round. The U.S. Department of Energy provided the 10 winning state teams with expense-paid trips to the national competition.
The National Challenge added several components to the original aviation design challenge. Teams were asked to develop a marketing presentation explaining how and why they arrived at their proposed solution. Presentations were made before an expert panel representing
professionals from industry, academia and the federal government. Winners were chosen based on the teams' design solutions, presentations and project journals.
"I am intensely proud of these girls," said Inouye. "Throughout the months of preparation, they rose to every challenge.  Even today, as they prepared for their presentation in front of PhDs and energy industry professionals, they handled themselves with grace and confidence. The challenge was in just getting here, but they tackled every step with success."
Teams Win State and Western Region Economics Challenge, finish second in nation
For the fifth consecutive year, two teams from 'Iolani won the 2009 Island Insurance Companies Economics Challenge which this past year was held on April 8 at the University of Hawai'i. The teams (in the David Ricardo and Adam Smith divisions) went on to represent Hawaii and win the Western Regional Competition in Los Angeles on April 27.
Winners for the David Ricardo division were
Bobby Huang
'11,
Matthew Lum
'11,
Mark Grozen-Smith
'11,
Tyler Tokunaga
'11 and
Andrew Wu
'11. The winners of the Adam Smith division were
Rayfe Gaspar Asaoka
'09,
Melody Lindsay
'09,
David Martorana
'09,
Uyanga Tsedev
'09 and
Thanh Vu
'09.   Iolani School has won the Regional Economics Challenge for the past four years and competed in the National Finals.


At the western regional Economics Challenge in Los Angeles were both 'Iolani teams, including Mark Grozen-Smith '11, Bobby Huang '11, Matthew Lum '11, teacher Richie Kibota '83, Andrew Wu '11, Uyanga Tsedev '09, Rayfe Gasper-Asaoka '09, Truong Vu '09, David Martorana '09 and teacher Dick Rankin.
At the regional challenge, 'Iolani competed against championship teams from Alaska, Washington, Idaho, Montana, California, Arizona,  and Oregon. As winners, 'Iolani then climbed to the national championship challenge held May 16 to 18 in New York City.
After a thrilling final round, 'Iolani finished second in the nation. The Adam Smith round went to Phillips Academy from Massachusetts which represented the northeast region, while the David Ricardo division was won by Little Falls High School from Minnesota which represented the central region.
State Spelling Bee Finalist
Eighth grader
Logan Davis
'13 finished second at the 2009 Hawaii State Spelling Bee held March 15 at Windward Community College. The first place award went to
Talmage Nakamoto
, who won the state bee last year and participated in the National Spelling Bee last May. Supporting Davis and showing the 'Iolani One Team spirit were
Spencer Wakahiro
'13,
Kevin Suzuki
'13,
Kyle Flores
'13,
Angelina Yick
'12, 
Erin Main
'12, and
Cameron Dye
'11. Davis's parents and younger brother were present as were last year's 'Iolani State Bee contestant Angelina Yick's parents and brother.  It was serendipitous that Logan's spelling number was 13 because after speller #14 was out (Round 8), Logan was the last speller in each round. That meant the 'Iolani "cheering section" could politely "erupt" into applause each time Logan spelled his word correctly.
Math Team Wins 17th Consecutive Title
Led by perfect scoring seniors
Jessi Saylors
'09,
Jon Wong
'09 and
Jeff Sakamoto
'09, the varsity math team won the seventh meet of the year and finished the season undefeated. Other team members were
William Chambers
'10,
Richard Chang
'11,
Hao Chen
'11,
Sean Cockey
'10,
Anders Lee
'10,
Dustin Shigaki
'11 and
Mark Williams
'10. This concluded the 17th consecutive math league championship as McKinley, Kamehameha, Punahou and Roosevelt rounded out the top five.
The junior varsity team also placed first at every meet this season. Team members at meet 7 were
Victoria Kim
'11,
Mitchell Kwock
'12,
Teresa Ou
'11 and
Andrew Wu
'11. The JV team has claimed the math league title every year since the JV division was formed in 2000.


The 'Iolani math team won its 17th straight championship this past year.
At the awards ceremony, 'Iolani students won five of the trophies awarded to the top ten scorers in the league: Jessi Saylors, Jeff Sakamoto, William Chambers, Jon Wong and Mark Williams.  The prestigious Senior Merit Award (for service to their team and the league) was bestowed upon captains Jessi Saylors and Jon Wong.
Maya Soetoro-Ng Offers Insight Towards Peace
Maya Soetoro-Ng
, younger sister of President
Barack Obama
and a teacher at La Pietra School, spoke in St. Alban's Chapel on April 6 on working towards peace under the auspices of the 'Iolani Peace Institute A Tribute to Dr. Berit Mexia.


'Iolani teachers Thomas Robinson, left, and Peter Greenhill, right, introduced Maya Soteoro-Ng on April 6 in St. Alban's Chapel.
At La Pietra, Soetoro-Ng teaches the course  Peacemakers. She shared some of her students' work with her 'Iolani audience. She also relayed her personal stories about living abroad and understanding the diversity of the world. She mentioned campaigning for her brother during his successful run for the U.S. Presidency in 2008.
She also encouraged students to stand up for issues they believe in. When she was 18, she marched for different causes as a way of self-expression.
"It made me feel that I had some power and some voice," she said.
Holocaust Survivor Shares Personal Stories


Holocaust survivor Abraham Goldberg inspired 'Iolani teachers and students with his personal experience of perseverance and survival.
'Iolani students and teachers heard Holocaust survivor
Abraham Goldberg
tell some of his extraordinary experiences during an assembly on April 2 in St. Alban's Chapel. 
Students also wrote and reflected upon the visit in class. One of many Peace Week events, the talk was sponsored by the 'Iolani Peace Institute: A Tribute to Dr. Berit Mexia.
Goldberg, 86, lives in Canada and has dedicated his life to Holocaust education, traveling to speak on behalf of peace.  He told his 'Iolani audience about his youth in Lodz, Poland, where many of the 240,000 Jewish residents perished in the Holocaust.  Goldberg credits his mother with giving him the drive to escape despite  such frightening odds.   He detailed his story in his book
A Long Way Home
.
"Mr. Goldberg's inspirational story taught me many things and reminded me that one person can make a big difference," wrote
Chad Hanaoka
'14 in an essay about Goldberg's visit.
Video Conference Unites Veterans with Soldiers in Iraq
A video conference at 'Iolani School allowed 100th Infantry Battalion veterans to speak with current soldiers in the 100th and 442nd Infantry Battaltion in Kuwait on April 23 in the Lower School computer room.
'Iolani second grader
Carley Peeters
'19 was happy to see and speak with her father, Lt. Col.
Mike Peeters
, who is the commander of the battalion in Kuwait.
The veterans, many who served in World War II, were amazed that technology allowed instantaneous communication between home and overseas. They said when they were soldiers, they were lucky to get a letter once a year because of the slow mail transit back then.
Lt. Col  Peeters also held up to the camera his
omamori
, or protective amulet, that was presented by the 100th/442nd veterans club to him and every 100th/442nd solider who deployed in 2008. Back at 'Iolani, the veterans could see, through the monitors, that their good wishes were greatly appreciated.
Sixth Graders Return to Medieval Times


Luc Lavatai '15 holds up a mysterious potion at the Medieval Faire.
'Iolani sixth graders stepped back in time and held their annual Medieval Faire on March 11. Jugglers, knights, apothecaries, peasants, jousters, minstrels and others roamed the lawn between the art building and St. Alban's Chapel. Students combined lessons in history, art, language arts, social studies, science and music to learn more about the way people lived in the Middle Ages.


LEFT: John Lee '15 and Alyssa Finger '15 stand before a map at the Faire. RIGHT: Anna Uhr '15 and Erin Cundiff '15 display their juggling talent.
May Day Celebrates Aloha Spirit
Remie Paguio '20 and Lima Harbottle '20 performed a fun Rock-A-Hula Baby.
See more photos »
From the fun Samoa La'u Pele dance by the Polynesian Club to the regal 'O Makalapua by Queen
Erin Manago
'09, 'Iolani's annual May Day program filled the lower gym with the power of aloha. Dances expressed Hawaiiana and the May Day Court represented each grade level with distinction. 'Iolani no ka oi.