This Issue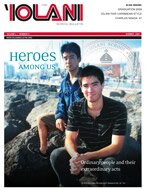 Ordinary people and their extraordinary acts
Read the full story »
Summer 2009 - Department
| Alumni Association News
News from the 'Iolani Alumni Association
Kodomo No Tame Ni – For the Sake of the Children.  That phrase embodies what has brought all of us together at 'Iolani and has kept us together through the years.  Our parents sacrificed to send us to this school. At 'Iolani we were nurtured, formed lasting friendships and received many opportunities for a brighter future.  Now as our children and grandchildren are of that age we want the same opportunities and wonderful memories for them.
The 'Iolani Alumni Association this year has organized a number of projects that have spanned the generations.  There were a number of family events from bowling to box car racing; social events such as the pau hana at Sam Choy's and our wine tastings; thought provoking events like the Economic Symposium with our panel of experts; and our flagship events, A Touch of 'Iolani, the golf tournament and summer concert with
Amy Hanaiali'i
. 
I would like to just take the time to acknowledge
Mike Mose
'93 and our hardworking board of directors who make everything possible:
Calvin Miyamoto
'58,
Tom Campbell
'61, 
Mike Flores
'67,
Steven Ai
'72, 
Guy Kamitaki
'73,
Bruce Fong
'79,
Rand Totoki
'79,
Darryl Jung
'83,
Sara Murakami
'85,
Matt Teho
'85,
Grant Ishikawa
'86, 
Ken Kawahara
'87,
Lisa Ignacio
'89,
Adrienne Elkind
'90,
Nelson Moku
'91,
Erin Palmer
'91,
Carter Siu
'92,
Davin Kazama
'94,
Lance Taniguchi
'94, 
Clifton Yasutomi
'00, and
Neil Kuioka
'00. 
Kodomo No Tame Ni is the perfect phrase to describe the sacrifice and dedication of the Alumni Association.  Thank you all for your hard work and dedication this year; you are an awesome group to work with!
Attending the events and reconnecting with classmates and old friends has been invaluable to me.  It has shown me the depth of the commitment that we share with the 'Iolani community the best possible future for our children. We should all remember the sacrifices of our parents and live to embody those ideals.   
I hope to see you at our future events. Please come to our Halloween Discovery Center event in October, and sign on to the 'Iolani alumni online community at www.IolaniAlumni.org.
Sherri Iha '84
President
Alumni Association