This Issue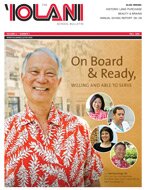 On Board & Ready, Willing and Able to Serve
Read the full story »
Fall 2009 - Other News
| School
Introducing New Faces
Welcoming faculty to the 'Iolani community
Manny Dayao '97 – Performing Arts Band Director
Manny Dayao'97 received a bachelor's degree in music education and performance from the University of the Pacific in Stockton, California and his master's in piano performance from the Boston Conservatory. He has worked as an accompanist/rehearsal pianist, concert pianist, trombonist, percussionist, singer, general music teacher, choral conductor, arranger, and studio musician. He has served as band director and consultant for the University of the Pacific and Northeastern University pep bands and as musical director in theater, including work with Harvard University's Hasty Pudding Theatricals. In 2006, he taught at 'Iolani while then band director Richard Hotoke was on sabbatical. He also taught beginning band and general music in the San Jose, California area. Most recently, he was teaching general music, choir, and musical theater at All Saints' Day School in Carmel, California and served as musical director at Epiphany Lutheran and Episcopal Church in Marina, California. While there, he started a community-based music program for youth called "Marina Sings."  He and his wife Rosa were married this past summer.


Dana Forsberg – Photography (fall 2009)
Dana Forsberg received a bachelor of fine arts in degree in photography from the University of Colorado at Denver. Her work has been on exhibit in numerous venues, including Denver International Airport, The Contemporary Museum in Honolulu, and the Incheon Art and Cultural Center in Incheon, Korea.  She has also been featured in the Korea Daily, Artweek, Honolulu  Advertiser, Honolulu Magazine, Denver Post and her work belongs to private and corporate collections in the United States and Europe. For the past two years, Forsberg taught at the University of Hawai'i - Pacific New Media. She recently returned from India where she taught photography skills to girls in Chhattisgarh.


Taryn Horner '00 – Physical Education
Taryn Horner '00 received her bachelor of science degree from the University of Utah in exercise sport science pedagogy and her master's of education degree from the University of Hawai'i at Mānoa in education foundations with an emphasis in private school leadership.  She has taught in Salt Lake City, Utah and coached volleyball for the past four years. As an 'Iolani student, she was on the volleyball, water polo, diving, swimming, and cheerleading teams. In college, she played volleyball and was on diving team. She enjoys running around Diamond Head and playing beach volleyball.


Addie Kim – Sixth Grade Social Studies (one year)
Addie Kim earned her bachelor of arts degree in English literature and writing from Seattle University and a master's degree in teaching from Lewis & Clark College in Portland, Oregon. After teaching for four years in Oregon, she moved back to Hawai'i where she taught at Maryknoll School. In January 2009, she served as the second semester substitute for 'Iolani teacher Cynthia Chung. She and husband Seung have two children, Tristan, 5, and Olivia, 2. Kim enjoys crafting and spending time with family.


Michelle Knoetgen – English
Michelle Knoetgen earned her bachelor's degree in English from Lewis & Clark College in Portland, Oregon and her master's degree in English and Comparative Literature from Columbia University in the
New York City. She has worked as an editor at a New York City book publishing company and as a freelance editor for Penguin Books. As a graduate student, she lectured at Barnard College and Columbia, then went on to teach reading and writing at a nationally-recognized charter school in Harlem. Her academic interests include literary accounts of trans-oceanic voyages and the African Diaspora. She is also a writer of short stories. Knoetgen was raised in Colorado and has since lived in Oregon; Brooklyn and Fire Island in New York; and Bali, Indonesia. She enjoys riding her bike, practicing yoga, snowboarding, and surfing.