This Issue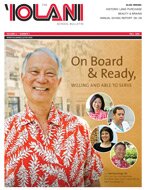 On Board & Ready, Willing and Able to Serve
Read the full story »
Fall 2009 - Feature
The 14th Annual A Touch of 'Iolani
Event chairs
Marcus Kawatachi
'90 and
Shari Tapper
'90 led the Class of '90, along with the Alumni Association, which organized this year's successful iLounge-themed event.
Music by the Ned Flanders Group, New York-style hard bop band Quadpod, trumpet player
DeShannon Higa
, and the
Bruce Hamada
'75 Trio engaged the nearly 1,000 alumni and friends. Great food by some of Hawai'i's top restaurants and eateries pleased all taste palates. An outstanding silent auction filled Seto Hall with rare and original gifts to raise money for the 'Iolani Alumni Association Scholarship. Reunion year classes sat together, while other alumni mingled and mixed with friends and families.
A special presentation took place honoring Mark Yamakawa '74, recipient of the 2009 Alumni Service Award. Pictured, left to right, Director of Alumni Relations Mike Moses, Alumni Association President Sherri Iha '84, Headmaster Dr. Val Iwashita '67, MarkYamakawa '74, Touch of 'Iolani co-chairs Shari Tapper '90 and Marcus Kawatachi '90.
See more photos »
During a special presentation, Headmaster Dr.
Val Iwashita
'67 presented the Alumni Service Award to
Mark Yamakawa
'74, executive vice president and chief operating officer for The Queen's Health Systems.
Warm mahalo goes to all who contributed to this annual 'Iolani celebration of friendship and connection.
Jazzy melodies and the sights and sounds of great food filled the air of the school's courtyards at the 14th Annual A Touch of 'Iolani on August 2.
Comments from Readers
Paul Yokota

Sounds like a good time was had by all!