This Issue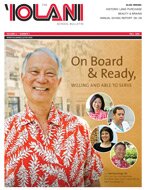 On Board & Ready, Willing and Able to Serve
Read the full story »
Fall 2009 - Feature
46th Annual Father Bray Football Classic
1968-69 CHAMPIONSHIP FOOTBALL TEAM
The 1968-69 varsity football team remains the school's only undefeated varsity team. That year, the team won Head Coach Eddie Hamada '46 his first ILH championship and the 1968 Turkey Bowl. The team included 44 players (seven sophomores, 16 juniors and 21 seniors).
See more photos »
The annual Father Bray Football Classic was founded in 1962, the same year as the birth of the Burning of the I tradition. The purpose of the Classic is to honor the coach, teacher, counselor and friend-in-need Father Kenneth Augustine Bray. As founder of the 'Iolani School's athletic program, he established a tradition for sportsmanship and fair play, modesty, and team unity. His philosophy of One Team spirit focuses on the importance of every member of the team working selflessly to achieve a common goal. During the Classic reception and the half-time show of the 'Iolani game, three alumni and the 1968-69 championship football team were recognized for perpetuating Bray's legacy. This year's Classic featured a double header: Kaimuki versus Mid Pacific and 'Iolani versus Kaiser.
Congratulations to the Father Bray Honorees
Gordon Chang '52
Gordon Chang
'52 was coached by some of the best in Hawaii sports, then, in turn, went on to be an inspiring coach as well. As an 'Iolani student, he played football under and lived with Father Kenneth A. Bray. Born his Hilo, Chang lost his parents as a young boy so Bray became the only father figure in his life. Chang went on to play football at the University of Hawai'i under coach Hank Vasconcelles.  Chang later transferred to Willamette University where he earn his degree in physical education and played football as well. He returned to Hawaii and coached football at Hilo High School. He later taught at 'Iolani School, where he also coached football, and Kailua High School before joining the faculty of Castle High School as a career guidance teacher for more than 20 years. He also coached football and cross-country at Castle before retiring in 1991. He and his wife
Kay
have been married for 39 years. They enjoy traveling and participating with activities at Hawaii Kai Baptist Church. "'Iolani means a lot to me," Chang says. "It was the perfect school for me. It was all boys at the time and everyone helped each other. If it wasn't for Father Bray, I wouldn't be here."
George Taoka '53
A former football player at 'Iolani and now a lifelong football fan,
George Taoka
'53 earned his bachelor's and master's degrees in engineering from Oregon State University. He went on to earn his Ph.d in engineering from the University of Illinois. Taoka worked for the federal government in Livermore, California, for two years before returning to Hawai'i where he became a professor at the University of Hawai'i at Mānoa. While teaching courses in civil engineering, structural engineering and highway safety, Taoka also served as a forensic engineering consultant. He retired from UH in 20003 after teaching for 38 years. He and his wife
Myrtle
have been married for 38 years and have three daughters,
Robin Miller
,
Christy Griffin
and
Sharyl Shultz
. They also have three grandsons and one granddaughter. Taoka's favorite pastime is following football whether the teams belong to high schools, colleges or the NFL.
Tamotsu Tanaka '53
Tamotsu Tanaka
'53 was born in Paia, Maui and entered 'Iolani School in the eighth grade in 1949. The senior class president in 1953, he played on the basketball and baseball teams and recalls how Father
Kenneth A. Bray
emphasized discipline and execution during practice. He also remembers the quote, "There is many a slip between the cup and the lip," which Bray posted on a bulletin board to remind his players of the importance of focusing and preparation. Tanaka went on to graduate with a bachelor's degree in history from the University of Hawai'i and his law degree from Stanford University Law School. He enjoyed a successful career as an attorney in Honolulu from 1963 until his retirement two years ago. In 1969, he became a member of the 'Iolani Board of Governors and recently served as the board's vice-chair until he stepped down this past summer. He was also a member of the United States Tennis Association Hawaii Pacific Section Board of Directors from 1996 to 2004. He and his wife Esther have four children,
Tod Tanaka
'75,
Jon Tanaka
'80,
Tracy Tobin
and
Elisabeth Anne Iwata
, and ten grandchildren.