This Issue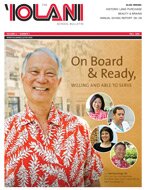 On Board & Ready, Willing and Able to Serve
Read the full story »
Fall 2009 - Department
| Giving to 'Iolani
Giving to 'Iolani
Young Alumni Sign Letters for Annual Giving
Alumni from the Classes 2005, 2006, 2007, 2008 and 2009 gathered for dinner on July 29 at Kochi Restaurant to sign fundraising letters for the 2009-2010 Annual Giving campaign.
The letters were mailed to their classmates in early August and some alumni have already made donations.  Many alumni now make their donations online at www.iolani.org.  The money raised from Annual Giving will help cover the school's operating expenses and may also be directed to Financial Aid, the Endowment, and other programs.  Many of the alumni in attendance were surprised to learn that tuition only covers 67% of the actual costs to educate students.  For young alumni, participation in 'Iolani's fundraising efforts is encouraged, even a donation of $10 is very meaningful. 
The event included good food and provided a wonderful opportunity for young alumni to catch up and reminisce while home for summer vacation.  It was a great night of fun and fellowship. 
A special thank you goes out to
Kyson Morikuni
'05,
Kira Tamashiro
'05,
Ryan Kamo
'06,
Christine Chan
'07,
Gerilyn Manago
'07,
Michael Hackler
'08, and
Laurie Nitta
'09 for helping recruit their fellow classmates. We thank all of the young alumni signers for their time and support. We also thank all alumni who sacrifice their time and resources to support 'Iolani School.
Mahalo to the following alumni:
Class of 2009

Ho Joon Cha
Olivia Fatongia
Grant Iwamoto
Chad Kuwana
Diana Lu
Reyn Nagamine
Laurie Nitta
Robert Tamai



Class of 2008

Makanalani Gomes
Michael Hackler
Kate Ikehara
Scott Kaneshiro
Kari Kuboyama
Liane Leong
Evan Lum
Joshua Michaels
Brennan Nacario



Class of 2007

Christine Chan
Marissa Chung
Andrew Inaba
Gerilyn Manago
Nicholas Matayoshi
Sean Matsuwaka
Heather Miki
Michael Murayama
Sarah Turgeon
Daniel Takami




Class of 2006

Ethan Chang
Jesselyn Dizon
Lucy Dolly Caires
Ryan Kamo
Joy Kawamura
Kawika Shoji
Katharine Tamai
Troy Tokuhama



Class of 2005

Greg Hackler
Kati Kudo
Charles Lee
Landon Leu
Kyson Morikuni
Evan Nakatsuka
Stacie Nishimoto
Kira Tamashiro
Tatiana Wilson


Albert H. Stone Memorial Scholarship Receives $15,000 Grant from Bank of Hawaii
'Iolani School's Albert H. Stone Memorial Scholarship program recently received a $15,000 donation from the Bank of Hawaii Charitable Foundation. The scholarship provides full tuition and books to six qualified students in each high school grade at 'Iolani School.  Twenty-four students benefit from the scholarship program each year.  One hundred percent of the Stone Scholar recipients attend college and, since its inception in 1965, the program has supported nearly two hundred students.
Pictured from left to right:'Iolani board member
Don Takaki
, Bank of Hawaii Chief Executive Officer
Al Landon
, Stone Scholarship recipients
Tuamata "Tu-e" Vaea
and
Jessica Sagisi
, 'Iolani Headmaster
Val Iwashita
.
"We are extremely grateful to Bank of Hawaii for their generosity during these difficult times," said 'Iolani Headmaster Dr.
Val Iwashita
. "We at 'Iolani School, especially the Stone Scholars, will work hard to be worthy of their faith in us."
The Albert H. Stone Scholarship was established in honor of Father Albert H. Stone, who was appointed headmaster of 'Iolani School in 1931.
Stone Scholar recipient
Jessica Sagisi
'11 attended Kapalama Elementary School from kindergarten through sixth grade and went onto Dole Middle School. After seeing a newspaper ad for the Stone Scholarship program, her mother encouraged her to apply for the scholarship. At 'Iolani, Sagisi participates in basketball and cheerleading, and is a member of the Key Club, Polynesian Club, Spanish Honor Society and Filipino Club.
"I really appreciate the opportunities that the Stone Scholarship has given me," Sagisi said. "I'll be the first in my family to attend college. I had already planned on going to college, but now that I'm here at Iolani, I know I'll definitely have the chance to go to college."
Stone Scholar recipient
Taumata "Tu-e" Vaea
'11 will be the school's representative in the upcoming Hugh O'Brien Youth Leadership Conference, and is active with the school's track and field athletics. He plans to pursue a career in the medical field.