This Issue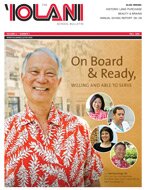 On Board & Ready, Willing and Able to Serve
Read the full story »
Fall 2009 - Department
| Faculty & Staff File
Faculty & Staff File
Recognizing Years of Service


Director of Student Activities Kirk Uejio '98, left, received the Ernell C. Young award from Headmaster Dr. Val Iwashita '67.
Faculty and staff completing years of service milestones were recognized on August 28th in St. Alban's Chapel by Headmaster Dr.
Val Iwashita
and Assistant Headmaster Lily Driskill.
Dr. Iwashita also presented the Ernell C. Young Endowment for Faculty and Staff Development award to Director of Student Activities
Kirk Uejio
'98. The award goes towards professional education, development and enrichment.


Recognized for ten years of service to 'Iolani were, left to right, kumu hula C. Lehua Carvalho, English teacher Leslie Evans, Institutional Advancement Office member Colleen Inaba, Lower School librarian Misako Kurokawa, Upper School librarian Carrie Miwa, Associate Director of Admission Kelly Monaco and science teacher Randyll Warehime.


Ernesto Facun, left, and Nemesio Maluyo, center, of the facilities department were honored for 20 years of service by Dr. Iwashita. (Not pictures were swimming coach/pool director Brian Lee and building maintenance technician Stuart Yim.)


Science teacher Pamela Fujinaka, math teacher David Masunaga '75, and English teacher Gail Schroers each achieved 30 years of service to 'Iolani School. (Not pictured were history teacher Susan Igawa and second grade teacher Joyce Ueda.)


Secretary to the Registrar Linda Ching, left, and Admission Receptionist/Secretary Audrey Hee, center, were applauded for reaching 40 years of service.
Lower School Leadership
After nearly 40 years as an educator and administrator at 'Iolani, Dean of Lower School
Fred Okumura
'65 has announced he will retire at the end of the 2009-10 school year. Okumura has been instrumental in building 'Iolani's kindergarten to sixth grade program into one of the best in the nation today and for inspiring and leading faculty, students and families.
(This past summer
JoAnn Stepien
stepped down as Assistant Dean of Lower School to devote time to family matters. She continues to maintain a leadership role in the Lower School on a part time basis.)


Catherine Fuller '84 is the interim Assistant Dean of Lower School.
Sixth grade teacher
Catherine Fuller
'84 has stepped in to fill the position of interim Assistant Dean of Lower School for the 2009-10 school year. Fuller received her bachelor's in English Literature from Occidental College, with a minor in Fine Art.  After college, she returned to Hawai'i and began taking classes in Hawaiian culture at the University of Hawai'i. Her progress towards a master's in anthropology was waylaid by volunteer work on the voyaging canoes
Hokule'a
and
Hawai'iloa
, and the prospect of sailing throughout Polynesia. 
Funded in part by a National Science Foundation fellowship, Catherine gained valuable life experience through her travels, which she  shares with the community through workshops and lectures.  She has taught fourth grade social studies (Hawaiian studies) at 'Iolani, as well as  fourth through sixth grade science and second grade. For the past six years, she has taught sixth grade social studies. In addition, Fuller coaches girls paddling teams.
New to the Office of Admission


Kelly Swartman-Hogan '83 greets guests in the reception area of the Nangaku Building.
Kelly Swartman-Hogan
'83 was recently named as receptionist for the Office of Admission.  She was one of the first female students to enroll in 'Iolani in the fall of 1979. She and husband T. Michael Hogan, Jr. are past owners and operators of T.M. Hogan, Inc., an investment advisory, employee benefits and financial services company.  Swartman-Hogan has two children,
Keahi
'11 and
Hali'a
'17.
Accolades and Aloha
Congratulations go to math teacher
Joseph Monaco
'87 on being a winner of the 2008 Edyth May Sliffe Award for Distinguished Junior High School Mathematics Teaching. This award recognizes the excellence of teachers who contribute to the highest scoring teams on the annual American Mathematics Competitions 8 (AMC8).
Warm wishes go to teachers
Ernette Au
and
Clifford Lee
'70 for being members of the faculty recognized by the student staff of the 2009 Ka Mo'olelo O 'Iolani yearbook dedication this past May.
Warm aloha goes to longtime receptionist and secretary
Audrey Hee
who retired this past summer after 40 years of service.