This Issue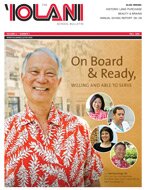 On Board & Ready, Willing and Able to Serve
Read the full story »
Fall 2009 - Department
| Reunion News
Reunion News
A Touch of 'Iolani

Saturday, August 7, 2010
5 p.m. – 8:30 p.m.
Sponsored by the Alumni Association and the Class of '91.
Food, entertainment, beverages, silent auction.
Call (808) 943-2322.


Class of 1999 10th Year Reunion
Saturday, December 26, 2009: Event at Paparazzi (Ward Centre) $25/person ($28 for guests). RSVP by November 28, 2009.

Class Community Service Event and Class Golf Tournament TBA
 
Contact: Jackie Sagum at
or John Miyagi at .

For the latest reunion news, check www.iolanialumni.org.