This Issue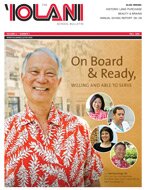 On Board & Ready, Willing and Able to Serve
Read the full story »
Fall 2009 - Department
| News from the 'Ohana
Welcome to a new school year
As a parent and an educator, I see the month of August as representing a brand new start – much more so than the month of January. I hear more resolutions being made at this time of the year than on the traditional New Year's Day.
Promises of getting better grades, procrastinating less and gaining new experiences are common goals set by the people I'm associated with. As for me, one of my resolutions is to do the best I can as the incoming president of the 'Iolani 'Ohana – an organization created over 20 years ago. The mission of this organization includes supporting 'Iolani School in both the grade level activities and some of the general school events, but our main focus is helping 'Iolani families, especially parents, to become more involved and more informed about what's going on with their children's school experience.
For example, the 'Iolani 'Ohana sponsors the weekly Sunday "email service" – an efficient way to get important information about what's happening on the 'Iolani campus for that particular week. As parents we don't always get timely information from our children. So if you're not already on the email service list, I highly recommend that you subscribe by signing up at our website
www.iolaniohana.org
.
The 'Iolani 'Ohana also believes that learning doesn't end with our children! We have many opportunities throughout the year for parents to acquire new skills and be exposed to innovative thinking and topics through national guest speakers and our own faculty. By attending these 'Iolani 'Ohana-sponsored workshops you're also able to meet parents from other grades with similar interests.
With the help and creative efforts of my fellow officers, committee chairs and grade level representatives, 2009 – 2010 promises to be a year of "doing better." These groups of parent volunteers are working hard to bring our families together both socially and educationally. I hope you will take the opportunity to gain some of the new experiences that the 'Iolani 'Ohana offers. I look forward to meeting as many of you as I can, and I hope this new school year fulfills many of your goals and expectations.
Mahalo,
Barbara L. Watanabe
'Iolani 'Ohana President 2009-10