This Issue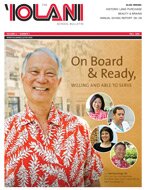 On Board & Ready, Willing and Able to Serve
Read the full story »
Fall 2009 - Department
| Editor's Note
Editor's Note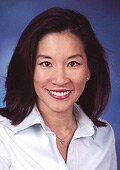 A heartfelt speech goes a long way.
So when
Jenai S. Wall
, the new chair of the 'Iolani School Board of Governors, helped launch the school year by speaking before 285 faculty and staff members on August 21 in Seto Hall and described how she came to 'Iolani, all ears were turned towards the podium.
"From my family, from the Board of Governors, and from all the many parents and students whose lives you have touched, thank you, thank you, thank you," Jenai said. "We truly don't say it often enough. This school would not be all it is without you."  
Jenai detailed how roughly 17 years ago she and her husband,
Roger
, were considering kindergarten programs for their oldest child, daughter
Alana
. They believed they owed it to her to seek the best possible educational fit. They met Dean of Lower School
Fred Okumura
'65 who impressed them with his subtle sense of humor and devotion to his students.
Yet knowing that their daughter would eventually grow up and progress through the grade levels, the Walls asked for something no other applying kindergarten parents had asked for. Could they also visit Upper School?
Enter then Assistant Headmaster
Charlie Proctor
.
"From my family, from the Board of Governors, and from all the many parents and students whose lives you have touched, thank you, thank you, thank you," Jenai said.

"I was impressed that this couple would be looking ahead 13 years into their daughter's educational future," Proctor recalled. "We walked through campus, seeing students in action in and out of the classroom and talking about our values and standards. The teachers whose classes we visited and the students in those classes did more than I to show Roger and Jenai the kind of school we are. The teachers were sharp, on top of the material and knew each student individually. The students were happy, responsive and smart."
Jenai expressed concern about how average students fared at 'Iolani given the high level of expectation and achievement. Proctor told her that in his experience high expectations led to high results.
"As we often say on Cape Cod, the rising tide raises all ships," he added.
That phrase, originally spoken by
John F. Kennedy
, has remained with Jenai all of these years.
Alana went on to graduate with the Class of 2006 and her brother,
Eamon
, graduated with the Class of 2008.  From their children's first day of school until the present, Jenai and Roger have been active, vital, contributing members of the 'Iolani community. From chaperoning the fourth grade Big Island trip, to working in the games tent at the Fair, to chairing the Building Futures Capital Campaign some years ago, and much more, Jenai has rolled up her sleeves and volunteered alongside other parents, students and alums.
CEO and Chair of Foodland Super Markets, Ltd., Jenai joined the 'Iolani Board of Governors in 1997. She serves on several other non-profit and corporate boards and has been recognized by numerous organizations. Like her father,
Maurice "Sully" Sullivan,
who co-founded Foodland with the
Lau Kun
family, she carries on the family legacy of service to community and a humanitarian spirit. Foodland is a leader in programs that increase community giving such as Shop for Higher Education and Give Aloha.
Her children may be grown and in college, but her bonds to 'Iolani cannot be severed. She still remembers science teacher
Darin Kohara
e-mailing Eamon about his strong soccer defensive skills and Latin teacher
Christopher Strawn
wearing a red Turkish fez with a black tassel as a symbol of support at an important basketball game for Alana. She named other acts of kindness, emphasizing how teachers lead by example and inspire students.
"Suffice it to say, that what you do every day, the care you show for our children and their welfare, not only makes a big difference and means a great deal to parents like me, but it is the secret ingredient to 'Iolani School's success," Jenai said.
Back in 1993, Jenai interpreted the "rising tide" to be 'Iolani's high standards but, as she shared, she now understands it also represents the teachers who elevate students to their full potential.        
Jenai's inaugural address drew loud applause, cheers and even some tears, continuing to positively resonate throughout campus. As she expressed her gratitude, we all, in turn, thank her tenfold for all she has done for 'Iolani and for leading the way.
- Cathy Lee Chong