This Issue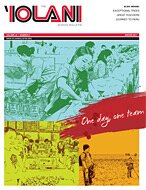 One Day, One Team
Read the full story »
Winter 2011 - Feature
Spreading the Message of Peace
By Peter Greenhill
Peace Week Fall 2010 marked another milestone in 'Iolani's quest to educate students and heighten awareness about the importance for peace around the world. During the week of September 17, the 'Iolani Peace Institute and Students Peace Institute held interesting, unique and hands-on activities throughout campus, with helpfrom the school's 'Ohana Speakers Series, Team Service, and Student Activities Office.
Peace activist
Paul Chappell
kicked off the week by visiting campus and meeting with students and faculty to share his experiences and perspective. Chappell, a former Army captain, was deployed to Iraq and is now the Peace Leadership Director of the Nuclear Age Peace Foundation. He applied history, philosophy, science, psychology, and anthropology, among other disciplines, to present-day war and peace issues and left a strong impression.
Teachers and students did yoga in the school's courtyard.
English teacher
Theresa Falk
'86, who is also adviser of the Yoga Club, led a yoga session in the center courtyard. Students and faculty gained a feeling and sense of relaxation and calmness that comes with the practice of yoga and meditation.
English teacher
Ali Stewart-Ito
shared a power point presentation, "How Can I Be of Service?" about her humanitarian work in Cambodia and other foreign countries. In Cambodia, she worked with orphans and also met with monks, intellectuals, and organizations to learn other ways to serve humanity. Stewart-Ito also has also made three humanitarian service trips to Africa where, among other things, she helped to install the first basketball hoop in Kenya. Through inspiring images and words, she shared ways to get involved overseas and to make a positive difference for those who struggle with poverty, poor health, and other forms of adversity.
Paul Chappell also held an evening lecture on September 22 in St. Alban's Chapel. He went into depth on the subject of ending war, dispelling what he called the prevailing "myths" that humans are naturally violent and that war makes people safer. His use of well-supported reasoning left a strong impression on listeners, many of whom later said that his ideas made a great deal of sense. They hoped that people around the country will continue to hear his message.
Students raised money for Pakinstan Flood Relief.
On the final days of Peace Week, the Students Peace Institute and Team Service held a fundraiser for Pakistan Flood Relief. Students set up a donation booth where people could purchase white rubber peace wristbands with the messages "Live Peace" and "Peace begins with a smile." Proceeds of the wristand sales went to flood victims through UNICEF (via the 'Iolani Peace Institute) and the American Red Cross (via 'Iolani's Red Cross Club). The fundraising effort grossed approximately $1,150, which will help save lives in the devastated areas of Pakistan where people have been dying from hunger or diseases caused by contaminated water.
Peace Week came to a spirited end on September 24 as the Student Activities Office, led by Student Activities Director
Kira Tamashiro
'05 and the proconsuls, combined an Aloha Friday dress day with a peace dress activity.
Beyond campus, seniors took their passion for peace a step further by participating in Honolulu's annual celebration of
Mahatma Gandhi
's birthday on October 2. For the fifth consecutive year, the Gandhi International Institute for Peace held a celebration at the statue of Gandhi in front of Honolulu Zoo. Seniors
Tiffany Cheung
'11,
Thuy Ny Le
'11, and
Calvin Chan
'11 volunteered in various capacities. The date is also recognized officially as International Day of Non-violence.
For questions about peace activities, e-mail the 'Iolani Peace Institute at
p

gre

e

nhi

@

iol

a

ni.

o

rg
or
j

ste

p

ien

@

iol

a

ni.

o

rg
, or Community Service Coordinator
Allison Ishii
'02 at
a

ish

i

i@i

o

lan

i

.or

g
.
Peter Greenhill is an 'Iolani English teacher and the co-director of the 'Iolani Peace Institute.