This Issue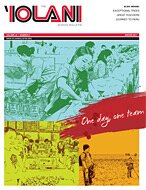 One Day, One Team
Read the full story »
Winter 2011 - Feature
Exceptional Trees, Exceptional Girls
For Ambassador Girl Scouts Jelene Wong '11 and Cristin Lim '11, Exceptional Trees should be acknowledged and enjoyed by the community. Their brochure can be found online at
www.outdoorcircle.org
.
Ambassador Girl Scouts
Jelene Wong
'11 and
Cristin Lim
'11 combined their talents. Wong's interest in the environment and Lim's interest in the arts went into their creation of a beautiful fold-out brochure released fall 2010 on
Exceptional Trees of Honolulu
. The brochure was also their Girl Scouts Gold Award project.
"We want people to know and be aware and be educated about Exceptional Trees and just enjoy nature," Lim said. "Hopefully through the walking tour, they can have fun too."
In 1975, the Exceptional Tree Act was passed by the Hawai'i state legislature to protect noteworthy trees statewide from being desecrated by construction and to preserve them for future generations to enjoy.
Found at Foster Gardens, 'Iolani Palace and other locations, the full-color brochure details Exceptional Trees along a walking tour through downtown and Waikiki. Wong did the research, writing and proofreading, while Lim did the artwork and drawings. They both took photos of the monkeypod, ironwood, tamarind and other trees.
To pay for the brochure, Wong and Lim applied for a Kaulunani grant, wrote letters to donors, and raised sponsorships. They worked with the Outdoor Circle, Girl Scouts of Hawaii, the city's Department of Planning and Permitting, and other organizations to make their idea for a brochure become a reality.
The brochure required long hours and many sacrifices of personal time, but it was all worth it. Both girls have belonged to the Girl Scouts since they were young, working their way up the ranks. The Girl Scouts work ethic and philosophy on giving back to the community overlap with 'Iolani's commitment to service.
"I learned that as a young woman, you can contribute to your community," Lim noted.
SOME EXCEPTIONAL TREES:
Ironwood
Monkeypod
Indian Banyan
West Indian Mahogany
Pink Bombax
Cannonball
Tamarind
Pili Nut
Kauri
Baobab