This Issue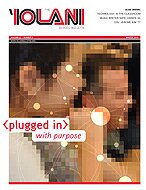 Plugged In with Purpose
Read the full story »
Winter 2010 - Other News
| Alumni
Class of '69 Celebrates 40th Reunion
By Russell Yamamoto '69
Four days of reacquainting with classmates from 40 years ago took place on August 13 to 16.
Day One:
Classmates reunited for a round of golf
A mini golf tournament was held at Waialae Country Club on Thursday morning. Sixty-niners
Wendall Chu
,
Steven Takahashi
,
Glenn Ginoza
,
Aaron Setogawa
, the Hon.
Russel Nagata
,
Doug Teraoka
, Dr.
Gary Inamine
,
Elroy Chong
,
Carl Kuwada
,
Glenn Flores
,
Tony Yamada
,
Westley Yamasaki
,
Glenn Inouye
,
Darrel Tajima
,
Chester Lee
,
Blake Okimoto
,
David Nakashima
,
Paul Iwata
,
Dale Sakamoto
and
Russell Yamamoto
battled through a hot and humid day on a tough WCC course.
Enjoying the post-golf party were Russell Yamamoto, Jon Yamaguchi, Ned Taba, Ed Oasa, Westley Yamasaki, Eric Nagano and Aaron Setogawa.
By 4 p.m., there must have been at least 40 classmates in attendance at the 19th Hole festivities at Russell Yamamoto's with Side Street Inn (purveyors of fine pupus) serving up some delicious fresh seafood and other healthy dishes like pork chops, tempura, short ribs, and more. Bartender
Erik Yamamoto
'99 kept the beverages flowing throughout the evening for the "uncles." Dr.
Gerald Soon
shared his '69 yearbook and
Clyde Henna
took center stage and gave his tidbits of history on just about every one of us which kept us laughing all night. Imagine this part of the party had moved from the lanai outside to the kitchen and lasted until 11 p.m. or thereabouts.
Day Two:
The Class of '69 enjoyed a reunion banquet.
Classmates and friends were treated to a Society of Seven performance.
Dinner at Waikiki Lau Yee Chai was hosted by owner
Leighton Mau
(our token Punahou-'Iolani convert). Thank you to Leighton and
Peggy
. I hadn't been there for years, and the food was as good as ever. Eighty-one classmates, spouses, guests and friends attended this function and the dining room was filled; thanks
Gwen
and
Russel Nagata
for manning the reception table. Dinner was followed by - yes - SOS (Society of Seven). I was seated at the far end of the showroom so I could see just about everyone during the show. It was unbelievably heartwarming to observe everyone enjoying the show and each other. I'm sure this brought back a lot of memories for all 46 who attended.
Day Three:
The festivities continued at the Father Bray Game where our 1968-69 Championship Football team was recognized during the annual pre-game tailgate at Aloha Stadium. "Captains' Choice" to represent the team on the field at half-time:
Norman Kong
,
Lyle Lolotai
,
Ed Oasa
,
Stan Sadowski
and
Steven Takahashi
.
Day Four:
Our reunion ended with an Aloha Sunday Brunch at Waialae Country Club. I had a golf date at WCC but later joined our classmates and significant others (29 of them) and it seems like we didn't skip beat from Thursday. I think maybe the champagne helped. It was fun with
Glenn Flores
, as usual, keeping everyone in stitches.
Many spouses joined their husbands for Sunday Aloha Brunch.
I'm sure there are a multitude of stories and fun moments that need to be shared. Obviously, we can't fit them all, but let this classmate say his 10 cents worth. This was a very nice reunion and I believe everyone had a wonderful time. It's also important to recognize some classmates came from as far away as New York and all across the Mainland. So, for those who couldn't attend, we (
Carl Kuwada
and his unannounced committee) are planning a 60th Birthday Reunion in Las Vegas. Maybe we'll see you then.
Finally, we cannot forget that all of this happened from a casual conversation with
Stephanie Yamaguchi
(our token classmate) who took on this huge task and made it happen.
Jon Yamaguchi
,
Elroy Chong
,
Westley Yamasaki
, and
Russel Nagata
also worked tirelessly. Thanks to our golf sponsors Dr.
Wayne Nadamoto
'68, Headmaster Dr.
Val Iwashita
'67,
Keith Oda
'71 and
Dwight Burdick
(a braddah from the club) that helped out. Lastly, thank you
Pat
for letting me have the party after golf — and your helpers
Lynn Inouye
(Glenn's wife), my daughter-in-law
Kelli
'95 and my future daughter-in-law
Sara
'01 for cleaning up. Cleaning up was at least enjoyable since
Keith Wakatake
spent the whole evening outside with the gals!