This Issue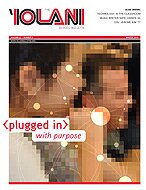 Plugged In with Purpose
Read the full story »
Winter 2010 - Other News
| Alumni
Call for Nominations
For Election of Members of the Board of Directors of the 'Iolani Alumni Association
Six Decade and five At-Large Director positions on the Board of Directors of the 'Iolani Alumni Association are open for election this year as the incumbants' terms expire.
The Decade Director positions are one for each of the decades: '00s, '90s, '80s, '70s, '60s. The Board, elected by the 'Iolani alumni, consists of 11 Decade and 10 At-Large Directors.
Nominations for Directors:
All members of the 'Iolani Alumni Association may nominate candidates by submitting the names of qualified candidates accompanied by the signatures of the candidate and any 10 members, and indicating whether the nomination is for a Decade Director or an At-Large Director position. Nomination forms may be requested from the 'Iolani Alumni Association by calling Mike Moses '93 at (808) 943-2309 or downloaded at
www.IolaniAlumni.org
.
A Member of the Association is any graduate of 'Iolani School and all former students who attended 'Iolani School for at least one year and who class has graduated.
Qualified Decade Director candidates are members from the decade in which the candidates graduated, or whose class graduated, i.e. the ten-year period beginning on years ending in zero. For example, a candidate for the '60s Decade Director must have graduated or been a member of a class which graduated between 1960 and 1969 inclusive. Decade Directors may only be elected by members from the same decade.
Qualified At-Large Director candidates may be any member without respect to the year of graduation. At-Large directors are elected by all members.
Nomination deadline:
Nominations must be received by May 3, 2010
Submit nominations to

'Iolani Alumni Association
Nominations Committee
c/o Director of Alumni Relations
563 Kamoku Street
Honolulu, HI 96826
Following completion of nominations, ballots will either be sent to all members or will be available online in June 2010. Directors shall be elected to two-year terms by ballots (no proxies) to be counted at the annual meeting of the members in July 2010.
The Board's Nomination Committee will address any questions you may have. Please leave questions at the above address or with Mike Moses '93 (808) 943-2309 or
m

mos

e

s@i

o

lan

i

.or

g
.