This Issue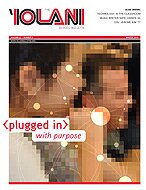 Plugged In with Purpose
Read the full story »
Winter 2010 - Other News
| Alumni
'Iolani Alumni Events & Activities
Save the Date: Alumni Weekend 2010
Alumni in reunion classes (years ending in a 5 or 0) are invited by the 'Iolani Alumni Association to a special reception on campus hosted by Headmaster Dr.
Val
and
Cynthia Iwashita
on Thursday, August 5, 2010 beginning at 6 p.m. Reunion year alumni will enjoy a complimentary catered dinner, open bar, and live entertainment. Campus tours will also be available.
The fun will be extended on August 7 at the ever-popular A Touch of 'Iolani which features some of Hawaii's best restaurants, live entertainment, and a silent auction. Reunion class members and their guests receive ticket discounts and reserved seating. For more information, visit
www.IolaniAlumni.org
or contact Director of Alumni
Mike Moses
'93 at 808-943-2309 or
m

mos

e

s@i

o

lan

i

.or

g
.
Calling all Golfers!
The 20th Annual 'Iolani Alumni Association Golf Tournament, presented by the Class of 1979, will be held on Thursday, May 13, 2010 with an 11:30 a.m. shotgun start at the Hawai'i Prince Golf Club. (This date is one month earlier than usual.) For more information, visit
www.IolaniAlumni.org
.
Alums Create Italian Delights
Sandy Goto '74 displays culinary style at the Alumni Association cooking class.
Amateur chefs enjoyed a wonderful afternoon of culinary instruction (and eating) when the 'Iolani Alumni Association presented an Italian cooking class at Sergio's Kapahulu on October 3. Under the direction of Executive Chef
Del Valdez
, participants prepared favorites such as bruschetta, pomodoro sauce, osso bucco, and tiramisu. Several lucky alumni assisted the chefs in preparing these dishes. All went home with recipes to try at home and full bellies. For more photos, visit
www.IolaniAlumni.org
.
Alumni Paint Faces for the Red Cross
Brent Kakesako '03 paints red and white hearts on the cheeks of Mari Haga.
Members of a new alumni service group got into the Raider spirit at 'Iolani's Homecoming football game on October 30. The alums offered face painting and temporary tattoos to students prior to the game, while collecting donations for the American Red Cross which is assisting victims of recent natural disasters around the Pacific. The group raised nearly $300.
Service Group GIVE at MA'O
'Iolani's new alumni service group descended upon MA'O Organic Farms in Waianae on October 31 for G.I.V.E Day (Get Involved. Volunteer Environmentally.). About 30 alumni and 70 other community volunteers pitched in by pulling weeds, fertilizing trees, and moving rocks to help the farm. Alumni also learned more about MA'O's organic farming techniques, the value of local produce, environmental sustainability, and educational programs and internships the farm offers to youths from the Leeward Coast. Following the work in the fields, alumni enjoyed a tour of the farm and a buffet lunch featuring MA'O's organically grown greens. The service group plans more projects in the coming months. For more information, click on
www.IolaniAlumni.org
.
The 'Iolani alumni service group spent GIVE Day at MA'O Organic Farms.
Alumni Wine Tasting
Food and wine lovers enjoyed a special evening on November 2 presented by the Alumni Association at Vino Italian Tapas and Wine Bar. Guests enjoyed a five course, family-style meal, paired with three wines selected by Master Sommelier
Chuck Furuya
. The menu included crispy rock shrimp scampi, ahi Nicoise-style salad, Vino's house made ravioli, mini veal osso buco and chocolate panna cotta. Furuya entertained the crowd, mixing humor with education to make even non-wine tasters interested in the vintages.
Discovery Center
Where else can you interact with a pirate, an inmate and an angel all in the same place? It was a fun-filled day as about 150 alumni and their family and friends gathered for the 'Iolani Alumni Association's Halloween Family Fun Day at the Hawaii Children's Discovery Center on October 25. The day started with a picnic at Kakaako Waterfront Park where folks dressed in their Halloween costumes and enjoyed bentos and drinks. Alumni and friends then headed in to the Discovery Center. Those in costumes or who updated their contact information entered a drawing for a gift certificate. Congratulations go to
Sheri (Tsuda) Fong
'87 who won!
Alumni in Law
Edward Knox '00, Chris Lee '99 and Stanley Chang '00 at the Alumni in Law event.
Attorneys, judges, elected officials, and law school students gathered at Oahu Country Club on November 5 for an 'Iolani alumni pau hana event. Alumni in several fields of law enjoyed pupu and drinks with 'Iolani graduates attending the William S. Richardson School of Law. The power of the 'Iolani network was in full swing as the aspiring legal professionals built relationships with those already practicing, and the established pros reconnected with colleagues. Special thanks,
Dale Lee
'66 and
Edward (Mickey) Knox
'00, for assistance in planning the event. For more photos, visit
www.IolaniAlumni.org
.