This Issue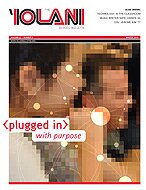 Plugged In with Purpose
Read the full story »
Winter 2010 - Cover Story
Plugged In with Purpose
Librarian Clarissa Sin discusses researching a project on French King Louis XIV.
By Cathy Lee Chong
'Iolani librarian
Clarissa Sin
set off on her sabbatical last school year armed with a mission. It was to evaluate 'Iolani's library curriculum and to recommend improvements to library and school computer technology.
"The library needs to be everywhere," Sin says.
The days of relying on card catalogues and the Dewey Decimal System are waning. Now, thanks to the Internet, students and teachers can have access to information literacy 24 hours a day, seven days a week from wherever they might be.
During her sabbatical, she visited independent schools, colleges and universities in Hawai'i and California to see how other educators incorporated technology into their classrooms. She returned enthusiastic and motivated to help students and teachers with 21st century research tools.
Kevin Jones '10 checks out his physics class ning with teacher Darin Kohara.
Sin sees the educational value in wikis, blogs, pod casts, Youtube, RSS feeds, and other modern vehicles for learning. She helps channel students' affinity for social networking towards productive class projects and experiences. She is also one of a growing number of faculty members who belong to the "'Iolani 21st Century Classroom" ning where teachers learn to support 21st century learners.
When ninth graders began an assignment that centered on King Louis XVI on trial for treason, Sin showed them the ropes of finding information, whether it was in hard cover books or via search engines and other sources on the Internet.
"It's only a tool," she says. "It's not the end all. Everything comes down to critical thinking. You still have to think and you still have to problem solve."

On the other side of campus, Lower School students learn to use technology as well. They were delighted with the addition of an Elmo, Mimio and Promethean, tools utilized by teachers to expand learning horizons.
Still, like other librarians and teachers at 'Iolani, Sin understands the role technology plays.
"It's only a tool," she says. "It's not the end all. Everything comes down to critical thinking. You still have to think and you still have to problem solve. Digital storytelling may help you tell the story, but you still need all the parts and pieces, the story line, the plot, the hook."