This Issue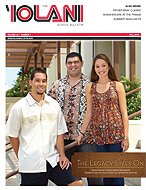 The Legacy Lives On - Eddie Hamada Scholarship Recipients Derrick Low '04, Issac Ickes '04, Leinani Keanini '08
Read the full story »
Fall 2010 - Other News
| School
Welcoming faculty and staff to 'Iolani School
Jena Kline |
Math
Jena Kline
earned her bachelor of arts degree in mathematics and chemistry from St. Catherine University in St. Paul, Minnesota, and her master's degree in oceanography and teaching from the University of Hawai'i at Mānoa. She attended the Wood's Hole Institute in Cape Cod, Massachusetts for a summer fellowship to study ocean currents then continued her studies in Iceland as a Fulbright Grant recipient. As a graduate student, she studied the effects of Asian air pollution on climate change before pursuing her love of teaching. In 2004 and 2005, she served as a summer school math and SAT prep teacher at 'Iolani School. She has also taught at Kaimuki High School, for Myron B. Thompson Academy, and conducted test prep for theThe Princeton Review. She recently taught math and science at Castle High School. She enjoys playing ultimate Frisbee, playing volleyball, hiking, gardening, and practicing yoga.
Aaron Chaney |
Lower School Physical Education and Science
Aaron Chaney
received his bachelor of science degree from the University of California at Santa Barbara and his master's in educational psychology from UCLA. He is far from "new," having taught fifth and sixth grade math at 'Iolani for 18 years. He also coached 'Iolani boys water polo for 19 years and started and coached the girls program for five years. Chaney moved to California in 2000 to pursue a position referring in the Olympics. He was selected as the sole United States referr to the 2004 and 2008 Olympic games, as well as four World Championships and two World Cups. He was named as USA Water Polo Referee of the Year in 2001 and 2005. In the past ten years, he coached the girls water polo team at Corona del Mar High School. He and his wife
Hermie
have an 18-month-old daughter,
Kaia
.
Jennifer Chen '01 |
Physics
Jennifer Chen
'01 earned her bachelor's and master's degrees in electrical engineering from the University of Pennsylvania. She worked as a systems engineer at Lockheed Martin for four years before returning to 'Iolani to teach in January 2010, while physics teacher
Mark Lindsay
was on sabbatical. She spent a semester in Hong Kong, traveled to Paris, London, and Malaysia, and survived eight winters on the East Coast.  She enjoys photography, playing the piano, kayaking, and spending time outdoors with her husband,
Eric
.
Allison Ishii '02 |
Community Service Coordinator
Allison Ishii
'02 earned her bachelor of arts degree at the University of California, San Diego. She has been the 'Iolani girls tennis coach for four years and currently advises the I Club and the Peace Project: China, a volunteer abroad program for 'Iolani  high school students. She is the director of the KA'I Program which brings economically disadvantaged middle school students to 'Iolani during the summer for educational enrichment and leadership building. She enjoys cooking, traveling, and being with family and friends.
Ai-ju Lin |
Chinese
Ai-ju Lin
earned her bachelor of arts degree in English as a Foreign Language and English Literature from Providence University in Taiwan and her certificate in elementary education from Taipei Municipal University of Education. After teaching for 13 years in Taiwan, she relocated to Hawaii with her family in 2006. From 2007 to 2010, she taught Mandarin at Sacred Hearts Academy where she developed an after school Chinese program for the Lower School. In 2009, she began teaching the first Advanced Placement Chinese course in the state. She enjoys hiking, picking fruit in the mountains, and cooking for her husband and two children.
Greg Macke |
English
Greg Macke
earned his bachelor of arts degree from St. John's College in Santa Fe, New Mexico. He taught English for nearly five years in Korea and Japan then moved to the Big Island with his wife,
Kumiko
, in 2005 to teach English at Hualalai Academy High School. From 2005 to 2010, he taught Honors British Literature, Honors World Literature, and Honors American Literature. His son,
Ewan
, was born in 2007, and he and his wife welcomed a daughter in August of 2010. His academic interests include the study of modern thought and literature and classical philosophy. He is also a fan of St. Louis Cardinals' baseball, BBQ, the blues and old school rock 'n' roll. Macke was raised in Southeast Missouri but has lived in London, England; Santa Fe, New Mexico; New York, New York; Albuquerque, New Mexico; Seattle, Washington; Inchon, South Korea; Karatsu, Japan; and Chapel Hill, North Carolina.
Jessie Marshall |
English
Jessie Marshall
earned her bachelor's degree from Oberlin College with highest honors in theater and graduated with distinction from the
University of York's master of arts program in Modern Literature and Culture. Recently, she received an master of fine arts in creative writing from New York University. She has taught at New York University and Honolulu Community College. Her short fiction has appeared in the
Gettysburg Review
and the
Mid-American Review
. She enjoys hiking, dancing, running, and listening to podcasts.
Patricia Matanza |
Spanish
Patricia Matanza
received a bachelor's degree in French and Spanish from Wellesley College in Wellesley, Massachusetts. She taught Spanish at Miss Porter's School in Connecticut and at Seabury Hall in Maui. She then received her master's degree in Spanish and Literature from the University of Hawai'i at Mānoa in 2001 and then taught middle and high school Spanish at Word of Life Academy. She enjoys spending time with her husband,
Wally
, and son
Isaiah
, 4.
Cy Ohta '89 |
History
Cy Ohta
'89 received his bachelor of science degree in finance from Santa Clara University and a master's of education degree in teaching with a focus in social studies from the University of Hawai'i at Mānoa. For the past 13 years, he  taught history, Japanese language and video editing at Kailua High School. He has also coached girls basketball at 'Iolani for the past 11 years. He and wife
Stacie-Ann
have two daughters,
Keelie Anne
, 6, and
Haylie Anne
, 5. He enjoys spending time with family.
Joshua Reppun |
History (one year)
Joshua Reppun
, a 1976 graduate of Punahou School, earned his bachelor of arts degree in history from the University of Iowa. He  is also a graduate of the College of Education, Education Foundations, University of Hawai'i at Mānoa with an emphasis in service-learning. Also a graduate of the California Culinary Academy in San Francisco, he was a chef and hotel manager in San Francisco, San Diego and Honolulu. He taught social studies at Punahou School and La Pietra. He and his wife often travel to Italy. He has a daughter attending college. He was also named Most Influential Teacher by a Punahou Presidential Scholar winner in 1996.
Jane Roland |
French (one year)
Jane Roland
received her bachelor of arts degree in English from Oklahoma State University and her master's degree in French from Middlebury. She taught for many years in Hawaii public high schools, teaching both English and French and most recently has been teaching all levels of French at Punahou. She has also taught evening classes at the University of Hawai'i and Hawaii Pacific University as well as teaching English as a Second Language in France and basic skills to U.S. Army soldiers in Germany. As a teenager, she lived in Afghanistan, Jordan, Ethiopia, and Kenya. Her interests include ballroom dancing, travel, gourmet cooking, and ecology.
Kira Tamashiro '05  |
Director of Student Activities (one year)
Kira Tamashiro
'05 earned her bachelor of arts degree in economics from Claremont McKenna College. There, she worked as a senior interviewer in the Office of Admissions. Since then, she has been a community executive for the Aloha United Way general campaign and a budget analyst for the Hawaii State Senate Committee on Ways and Means. As a student at 'Iolani, she was class president for four years, played in the band, and lettered in cross country, wrestling and judo. She enjoys kayak surfing and hiking, and training for her first marathon this December.