This Issue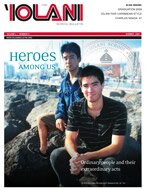 Ordinary people and their extraordinary acts
Read the full story »
Summer 2009 - Other News
| School
Presidential Scholar Robert Tamai '09 praises his teacher for caring
Robert Tamai '09 was named as a 2009 Presidential Scholar.
Robert Tamai
'09 was named as one of two Presidential Scholars from Hawaii for 2009. A total of 141 high school seniors from across the country received the honor. The students have demonstrated outstanding academic achievement, artistic excellence, leadership, citizenship, and community service.
The Presidential Scholars program was created in 1964 to honor academic achievement. Since 1983, each Presidential Scholar has invited his or her most inspiring and challenging teacher to travel to Washington, D.C., to receive a Teacher Recognition Award from the U.S. Department of Education.
Tamai named chemistry teacher
Gail Tuthill
as the most influential teacher in his high school career. Tamai and Tuthill were among the students and teachers honored in Washingto, D.C., from June 20-24.
"One moment that really meant a lot to me happened when Mrs. Tuthill sat me down after chemistry class," Tamai recalled. "I had been contemplating giving up student council to focus more on my academics. Mrs. Tuthill heard about this and decided to talk to me. She convinced me to continue with student government and told me that she could tell that I really enjoyed being a part of the student council."
Tamai was a member of the Lower School student council, eighth grade vice-president, ninth grade vice-president, tenth grade class president, eleventh grade class president, and a grade proconsul this past senior year.
He had a cumulative grade point average of 4.31 while taking AP Micro/Macroeconomics; AP Calculus BC; AP Chemistry; AP English Lit; and electives in Orchestra 5 and Graphics. A member of the tennis and cross country teams, Tamai belonged to the Key Club service organization which volunteers to help non-profit organizations in the community.
Tamai will attend Harvard College in the fall. The other Presidential Scholar from Hawaii is
Lucia Mocz
of Mililani High School; she will also attend Harvard. Tamai is the son of Dr.
James
and
Tina Tamai
. He also has two sisters,
Katie
'06 and
Jennifer
.
2009 Hawai'i Presidential Scholar Robert Tamai '09 wrote this essay as part of his portfolio for the program. He was asked to describe a mistake he made or a challenge he faced.
Don't Panic, Wear Pink
By Robert Tamai '09
At the onset of my third season on the varsity tennis team, every member had high aspirations of finally beating our crosstown rivals, en route to winning the league title. Despite the off season training and extra hours of hitting that the team did, every person was anxious and terrified about meeting the high expectations. Even worse, as the season progressed, the lack of actual teamwork needed in "team tennis" created rifts amongst our team members. Nervous, frightened, and in denial, the team's inevitable defeat was palpable on the tennis courts before the first match had been played.
As the unofficial captain of the team, I decided that many of my teammates certainly needed a "pick-me-up," especially before the big match against our rival. On the bus ride over to face the ten-time state champions, I slipped on some old, pink soccer socks that I had dug out of my closet, rolled them high above my knees, and premiered a new and unique fashion statement. So farcical were my pink socks that many of my teammates laughed during the changeover and break in their matches. Yet, as match play continued, they realized that not only were they calm and collected, their performance had become smooth and steady.
By putting myself out there, I was able to take everyone's mind off the buildup around the match and focus solely on playing the game. Although I may have sacrificed my social dignity, I gained a valuable lesson about change. Sometimes in order to diverge from the normal routine, it takes a little risk to spur efforts from others. The tennis team realized that if someone is willing to embarrass himself, then maybe there is nothing to be afraid of. I learned that one individual, no matter how small the action, can effect a change not only with a difficult situation, but also within the people involved. Seeing the team wear flashy socks was not only comical, but also made me realize that I can influence others to rise out of their comfort zone. So now when I'm up against an obstacle, I don't panic; I just wear my pink socks.
Robert Tamai '09 wears his inspiring socks during a tennis match.